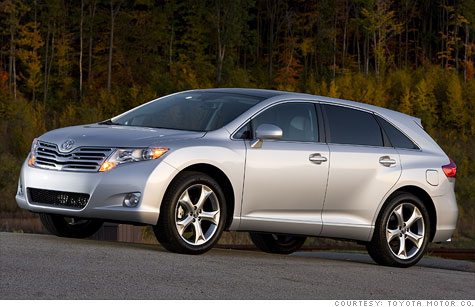 Toyota's latest recall includes 1160,00 Venza crossover SUVs.
NEW YORK (CNNMoney) -- Toyota Motors is recalling about 680,000 vehicles in the United States in two separate recalls. One recall involves airbags in pickups, the other is for faulty brake lights in sedans and crossovers.
The larger of the two recalls involves almost 500,000 2005 to 2009 Toyota Tacoma trucks. Part of the trucks' steering wheel mechanism may rub against a cable assembly. That could result in a damage to the electrical connection for the driver's airbag module, causing the airbag to be deactivated. If this happens, an airbag warning light on the dashboard will be illuminated and the airbag won't work in a crash.
The second recall involves about 70,500 2009 Toyota (TM) Camry sedans and 116,000 2009 to 2011 Toyota Venza crossover SUVs. Brake lamp switches on some of these vehicles were incorrectly installed so that silicon grease may have gotten inside the switch. The grease impedes the electrical flow inside the switch.
The vehicles' "shift interlock" safety systems rely on that electrical signal. The "shift interlock" system is designed to prevent the car from being started and shifted into Drive or Reverse without the brake being firmly pressed. The purpose of the system, which virtually all modern cars have, is to prevent accidental acceleration when a vehicle is first being started up.
While the brakes will work normally without electricity flowing through the switch, the vehicle' interlock systems may not recognize that the brake pedal is pressed, which will prevent the vehicle from shifting out of park.
If that happens, a warning lamp on the instrument panel will light up, the vehicle may not start and the gear selector lever may not shift out of the Park position. In some cases, the brake lamp itself may also not work.
No accidents or injuries have been reported as a result of either problem, according to Toyota.