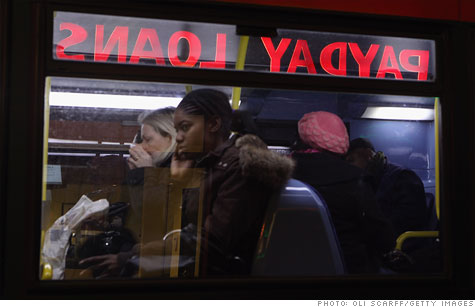 Consumer groups argue that when it comes time to settle bank payday loans, many customers can't afford to pay back the loan and fees.
NEW YORK (CNNMoney) -- Some of the nation's biggest banks are offering short-term loans with sky-high fees that consumer groups say are just as predatory as payday loans.
Wells Fargo (WFC, Fortune 500), U.S. Bank (USB, Fortune 500), Regions (RF, Fortune 500), Guaranty Bank and Fifth Third Bank (FITB, Fortune 500) are among the banks offering these loans through direct deposit checking accounts, marketing them under such names as Checking Account Advance and Ready Advance loans.
Consumer advocates say these advance loans are just as bad as payday loans because they carry steep fees that borrowers often can't afford to pay back by the time the loan is due, a date that typically coincides with the delivery of their next paycheck or government benefit payment.
Like payday loans, the banks' advance loans are typically made for two weeks or a month. But instead of using a post-dated check or accessing a consumer's banking information to retrieve payments like payday lenders do, the bank pays itself back directly from the customer's checking account when they receive their next recurring direct deposit.
Consumer groups argue that when it comes time to pay back the advance, many customers need that incoming deposit for other expenses and can't afford to pay back the loan and fees -- prompting them to take out another loan and extending the cycle of debt.
This is the same debt trap that payday lenders have long been criticized for causing, said Kathleen Day, a spokeswoman at the Center for Responsible Lending. In recent years, more than 16 states have put double-digit caps on the APRs that payday lenders can charge in hopes of curbing the debt cycle.
But now the big national banks are getting in on the act, marking the beginning of a disturbing trend, said Day.
"Payday loans erode the assets of bank customers and, rather than promote savings, make checking accounts unsafe for many customers," wrote a consortium of 250 consumer groups, community and religious organizations and law centers in a letter urging federal regulators to halt payday lending by banks. "They lead to uncollected debt, bank account closures, and greater numbers of unbanked Americans."
According to a study by the Center for Responsible Lending, which examined the advance loans offered by Wells Fargo, U.S. Bank, Fifth-Third, Regions and Guaranty Bank, these loans are nearly identical to predatory payday loans.
The report found that advance loans issued by the banks carried an average term of 10 days, with a fee of $10 per $100 borrowed (amounting to a 365% APR), and customers remained stuck in the loan cycle -- meaning they owed money to the bank -- for an average 175 days per year.
Meanwhile, non-bank payday loan terms averaged 14 days, with fees of $16 per $100 (equating to an average APR of 417%) -- and consumers stayed in the loan cycle for about 212 days per year, the study found.
The banks say there are several factors that distinguish their loans from those offered by payday lenders. Since users are already checking account customers, the banks are able to verify that recurring deposits are being made and the customer will have the funds to repay the loan.
Plus, unlike payday lenders, the banks report repayment history to credit bureaus. And while some payday lenders roll over the original loan into a new loan if the customer can't repay it on time, banks typically won't extend new loans until the original loan is repaid. However, they will give out another loan once the first one is fully paid.
Wells Fargo and Regions also pointed out that their fees are significantly lower than the average payday loan fee of $16 per $100 borrowed.
Wells Fargo, for example, charges $7.50 per $100 borrowed. The bank's website says its Direct Deposit Advance loans are meant for emergencies and may not be a good idea for everyone. But because there is a demand for short-term credit among certain customers, Wells Fargo wants to provide the loans as a last resort option for customers, a bank spokeswoman said.
Regions Bank and U.S. Bank also said their loans are meant for unexpected expenses and emergencies. Regions, which charges a $10 fee per $100 borrowed, said less than 1% of its checking account customers have used its Ready Advance product, and customers rate their experience an average 4.62 on a 5-point scale.
U.S. Bank, which also charges $10 for every $100 borrowed, said that 96% of customers using its Checking Account Advance product report being satisfied or extremely satisfied.
Cincinnati, Ohio-based Fifth Third and Guaranty Bank, of Milwaukee, both declined to comment.
At a time when banks are hurting from new financial regulations limiting credit card and debit card fees, the Center for Responsible Lending's Day thinks the banks are more interested in using these loans as a new source of revenue than they are in helping consumers in a pinch.
The government's new consumer watchdog, the Consumer Financial Protection Bureau, wouldn't comment on the letter urging action against the banks' advance loans, but the agency's director, Richard Cordray, has already said examining the practices of payday lenders is a top priority.
Cordray said the CFPB is aware of banks offering payday-like loans, "and will be paying close attention to these products at the banks that offer them."
In a recent speech in Alabama, Cordray said about 19 million American households use payday loans -- whether it's through a brick and mortar shop, online, or via a traditional bank -- and that consumers continue to be tempted by the promise of quick and easy cash.
"When you're desperate, the terms of the loan seem to matter a lot less. You need the money. You need it now," said Cordray. "Rightly or wrongly, people faced with tough situations often think these payday loans are their only options."