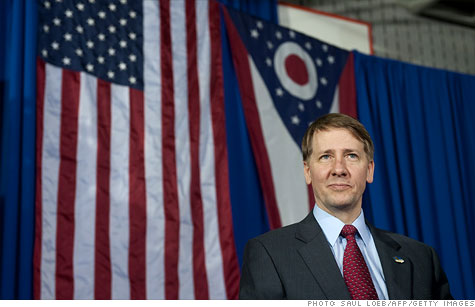 Richard Cordray, the new director of the Consumer Financial Protection Bureau, said his first priority is helping consumers understand mortgages and student loans.
WASHINGTON (CNNMoney) -- The Consumer Financial Protection Bureau's new director -- armed with the bureau's full powers -- has set his top priorities for what to do first.
With President Obama's recess appointment of former Ohio Attorney General Richard Cordray last week, the six-month-old bureau -- created as part of the Dodd-Frank financial reform law -- inherited a couple of key new powers.
These include the ability to regulate nonbanks and the ability to crack down on financial products considered unfair, deceptive or abusive toward consumers.
CNNMoney asked Cordray to detail his top three priorities in a media briefing on Thursday.
'Know Before You Owe'
Cordray said his top priority was the bureau's "Know Before You Owe" campaign, dedicated to helping consumers understand all the terms of their mortgage, credit card and student loan agreements.
By July, the consumer bureau has to finish up its simpler mortgage federal disclosure form, as required by the Dodd-Frank law that created the bureau.
The bureau is also working on a one-page financial aid shopping sheet to help students figure out how much in federal loans and private loans students should consider taking on, and what kind of loan repayments will follow after graduation.
Policing nonbanks
The next big priority for the bureau is to police nonbanking financial firms including student lenders, debt collectors, payday lenders and mortgage originators and servicers.
"We have the opportunity now, we're aggressively moving forward with non bank supervision to level that playing field in these same markets," Cordray said.
The day after Cordray started, the bureau launched its nonbank supervision program, expected to turn its focus on the mortgage sector.
On Wednesday, the bureau released a new set of standards for consumer bureau officials to examining mortgage originators. The mortgage industry played a big role in the housing bubble that led to the financial crisis, signing up homeowners for loans they didn't understand and couldn't pay.
Cordray said that consumer bureau examiners would be sent into mortgage broker offices to start looking at their books in coming months.
On Thursday, Cordray will hold a hearing on payday lending -- loans made to a worker in advance of his or her paycheck -- in Birmingham, Ala. Alabama is home to the largest number of payday lenders per capita in the nation, according to the bureau.
Cracking down on law breakers
The last priority Cordray outlined is the one that makes the financial sector the most uneasy: Holding financial firms accountable when their financial product takes advantage of consumers.
"Providers need to know that whether they're big or small, and whatever market they're in, they have to follow the law and they have to obey the law," Cordray said. "They can't engage in unfair and deceptive and abusive practices."
The power to declare products deceptive and abusive and to stop financial firms from selling them is another power that the bureau didn't get in full force until Cordray took over.
And it's the one everyone is going to be watching. So many other financial regulatory agencies failed at cracking down on firms that break laws that protect consumers. Those failures were a big reason the consumer bureau got created in the first place.
The bureau employs about 800 staffers. And it had already started flexing some key powers, such as examining the books of some the nation's largest banks.
There's still debate about whether Cordray's appointment is legitimate. Republicans say it's not. Obama made the recess appointment while Congress was technically in a do-nothing session, weeks after the Senate failed to muster enough votes to confirm Cordray.
But Cordray says he's going to leave such questions for others, and concentrate on the task at hand.
"We have a job to do. We're going to do the job. It's a very important job, " Cordray said.