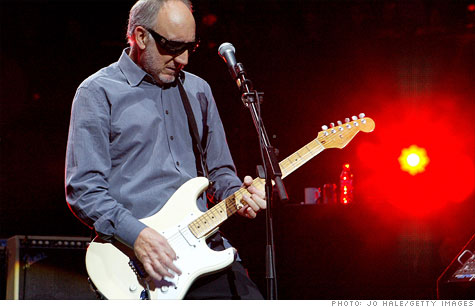 Pete Townshend of The Who wields a Fender guitar.
NEW YORK (CNNMoney) -- Fender is ready to rock the Nasdaq.
The iconic guitar maker filed Thursday to sell as much as $200 million worth of shares in an initial public offering. The company plans to trade under the symbol FNDR.
Fender said in the filing that it was the top seller of electric, acoustic, and bass guitars and amplifiers in the U.S. last year, and that it sells its products in over 85 countries.
The company had $700 million in sales for the 2011 fiscal year, up from $618 million in the year prior. Net income was $19 million last year after a loss of $1.7 million in 2010.
Fender instruments have been around since 1946, and have been used by rock legends including The Who, Elvis Costello and Eric Clapton.
"We have had a profound influence on the evolution of the music industry," Fender said. "We have demonstrated an ability to continuously develop and introduce innovative products and features that are designed to grow the market for our products and enhance our brands."
Some shares in Fender's IPO will be sold by existing stockholders, while others will come from the company itself. The company said it plans to use roughly $100 million from the offering to repay part of a loan.