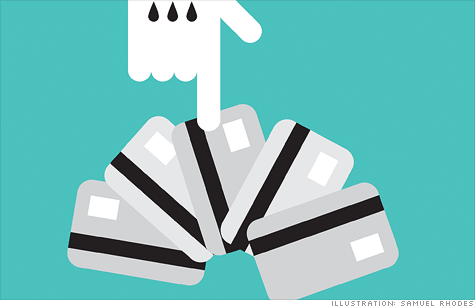 If you're a small business owner and thinking about using credit cards to cover expenses, it pays to choose the right one.
(MONEY Magazine) -- About 37% of business owners are using credit to cover some of their costs, reports the National Small Business Association. The optimal card for your operation depends on how you'll use it.
If you'll carry a balance
Rate should be your primary concern, says Beverly Harzog of Credit.com. APRs on business cards average slightly lower than personal cards (13% vs. 14%), but you can do better with the latter if you have an excellent credit score.
More important, personal card issuers must abide by the CARD Act, which protects you from arbitrary rate hikes.
The best choice for those with 750+ credit scores: Simmons First Visa Platinum, with a 7.25% APR and no fee.
If you won't carry a balance
Go for the business card. You'll get quarterly and annual spending reports -- and establish a company credit history.
Also, such cards often have higher spending limits, says Bill Hardekopf of LowCards.com.
Consider one with money-saving rewards: Capital One Spark Cash Business, for example, pays 2% on everything, and the $59 fee is waived the first year.
Do you know a Money Hero? MONEY magazine is celebrating people, both famous and unsung, who have done extraordinary work to improve others' financial well-being. Send an email to nominate your Money Hero.