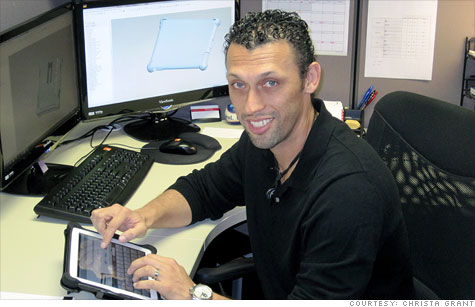 Engineers like Jorge Sotelo at case maker A.G. Findings are tasked with designing cases for the new iPad.
NEW YORK (CNNMoney) -- Apple's decision to keep the new iPad's size nearly identical to the iPad 2 is giving case makers some wiggle room -- literally.
The third-generation iPad, set to hit stores March 16, will be less than a millimeter thicker than the last one. It doesn't sound like much, but for makers of plastic, wood or metal tablet cases, it means manufacturing changes that can keep their products from store shelves during the pivotal first few weeks after a release.
Apple doesn't announce its product specs in advance, so manufacturers find out about changes at the same time as everyone else. The best prepared are the ones that gambled and started making a tablet case with enough space inside to house either the iPad 2 or a slightly modified version.
The moment of truth for BodyGuardz came when Apple (AAPL, Fortune 500) CEO Tim Cook unveiled the new iPad's dimensions on Wednesday.
Dain Hodson, BodyGuardz's chief operating officer, was following tech blog Engadget's live coverage of the event. When news came that the new model would be "9.4 millimeters thin," Hodson immediately reached for the tape measure in his drawer.
Cradling the phone on his shoulder, he carefully measured the plastic production sample case that had just arrived from China.
"Looks like we're good," he announced with relief. "That's everything. That's the starting gun for us."
BodyGuardz will now ramp up production, but in reality, its manufacturing cycle started weeks ago. The Bluffdale, Utah company decided to roll the dice after a mysterious e-mail arrived two months ago. The message came from an unknown Chinese manufacturing company that claimed it had the secret iPad 3 specs everyone desired.
"I'm very leery when I hear that, because especially for cases, there are some companies out there that will say they have five designs they're speculating will be the right size," Hodson said. "And many times, they're not right. You can be one millimeter off and you're impeding somebody from using the device correctly."
Changes in the placement of buttons, cameras, speakers and USB ports are all a nightmare for companies that start early. Wednesday's announcement gave BodyGuardz executives some relief: It looks like the Chinese source was right, and BodyGuardz's cases will fit both the new iPad and the previous model.
Still, Hodson admits they won't really know it's perfect until they can buy a new iPad next week.
"That's the danger in this game," he said.
Other case makers aren't rushing off the blocks.
Grove, in Portland, Ore., makes all of its bamboo-and-leather cases by hand. The company's 23 employees pride themselves on their cases' artistic finishes, and a pristine fit is paramount. Co-founder Ken Tomita said Grove won't start adjusting its milling machines until an employee comes back with a model from the nearby Apple store.
Until then, he's wrestling another dilemma: Apple's baffling name choice. It's not the iPad 3 or iPad HD. It's just "the new iPad."
"Apple really threw us a curve ball," Tomita said. "We had a debate today for half an hour. We can't just call it 'the new iPad case.' That's confusing."
Until Grove figures that out, its packaging and marketing plans are on hold. But Tomita is relieved that his company doesn't have to place its big bets in advance.
"The people who are sweating bullets are the ones who use injection molds," Tomita said.
Take the cautionary tale of Hard Candy Cases. The San Francisco company paid $50,000 last year for steel moldings after several Chinese manufacturers claimed the iPhone 4S would have a different shape and a widened home button.
It didn't. Oops.
"You move forward based on your gut feeling and experiences in the past," said A.G. Findings CEO Hank Goradesky, whose company makes the tough Ballistic line of cases. "There are times when we've gambled and lost inventory and tooling."
Goradesky wasn't willing to miss out on a moment of production time, so he's had three executives in China overseeing manufacturing for the last two weeks. Relying on the Apple rumor mill, they guessed that the new iPad's dimensions would be almost identical to the last model.
Wednesday's confirmation of that was a giant relief.
"God forbid that this thing doesn't fit and it's in a store," Goradesky said. "You can't explain that. Those scenarios can't exist."