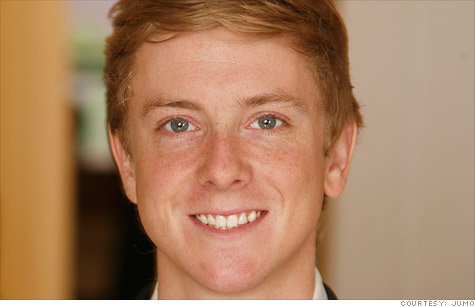 Chris Hughes
NEW YORK (CNNMoney) -- Facebook co-founder Chris Hughes has bought a majority stake in The New Republic, the politics and public affairs magazine announced Friday.
Hughes, 28, will now be the publisher and editor-in-chief of the 98-year-old publication, which is heralded as a key voice in shaping American progressivism. Richard Just will retain the title of editor. Financial terms of the deal were not disclosed.
Hughes was one of four co-founders of Facebook in 2004, along with Dustin Moskovitz, Eduardo Saverin and CEO Mark Zuckerberg.
Hughes posted a letter to the magazine's website on Friday, detailing his view of modern media and increasingly skeptical readers.
"Technology's disruption of traditional forms of media has led many to believe that independent, thoughtful media institutions are on the decline and that there are not enough readers to support serious reporting and analysis," he wrote.
Hughes -- who left Facebook in 2007 to coordinate online efforts for Barack Obama's presidential campaign -- said this "next era" of The New Republic will continue to focus on in-depth articles and analysis, while adapting to new technology.
The magazine "has been and will remain a journal of progressive values, but it will above all aim to appeal to independent thinkers on the left and the right," Hughes added.
In 2009, former editor Martin Peretz and an investor group led by former Lazard banker Laurence Grafstein bought The New Republic from Canadian media company Canwest.
Taking the helm of the publication is the latest in a long list of jobs for Hughes. After Obama's campaign ended, he moved onto an investing position with General Catalyst Partners. In 2010, he founded charity-focused site Jumo. Last year, Jumo merged with socially minded publishing company GOOD.