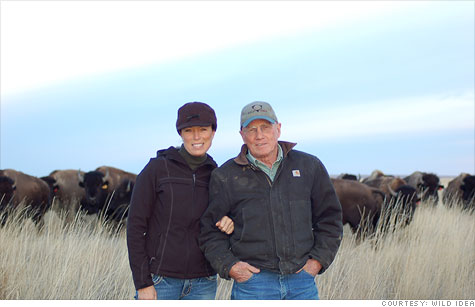 Jill and Dan O'Brien turned their hobby of raising buffalo into a million-dollar-in-revenues business.
NEW YORK (CNNMoney) -- Dan O'Brien, the owner of a 3,200-acre ranch in Rapid City, S.D., had been raising a few buffalo with his wife since 1997. But the hobby was proving costly.
"We wanted to make this a better place for our (buffalo) herds," said the 64-year-old, a wildlife biologist. "The way to do that was to play the business card."
Dan decided to farm buffalo for commercial consumption.
In recent years, bison has become more popular as a healthier alternative to other red meats, because it is leaner and has lower cholesterol.
Demand for the meat grew 10 percent in 2011, the sixth straight year of double-digit growth, according to the National Buffalo Association.
Wild Idea Buffalo Co. (wildideabuffalo.com) -- which raises and processes meat from herds of bison in South Dakota -- started on a small scale in 1997.
"The first year we slaughtered three or four buffalo and sold them to family and friends," Dan said. "We sent out 50 or so boxes."
In December, Wild Idea, bolstered by the opening of their processing plant in May, crossed over the $1-million-in-revenues mark, essentially doubling its business from the year prior. To staff the new plant, they hired 10 more employees, bringing the total to 14.
"We set $1 million in 2011 as our goal," said Jill, 48, his wife and business partner. "In November, we were thinking 'Are we going to make it?'
But by December, they were sure that they would hit their goal, because of the number of gift boxes that were ordered, said Dan. Afterwards, "we did a little happy dance," he said.
Jill met Dan when he made a sales call to her Rapid City restaurant 14 years ago to sell bison. She was impressed with the quality of the meat and taste. Today, Jill, who grew up on a prairie, helps Wild Idea by developing recipes. She's also working on a cookbook.
In the past 15 years, the O'Briens have grown their herd from 13 baby buffalo to 300. They also process buffalo sourced from five other ranchers and Native Americans at a nearby reservation.
South Dakota has the most bison producers in the country. But the O'Briens are not too worried about competition. Their bison are grass-fed, free-roaming, antibiotic- and hormone-free, as well as humanely treated, creating a high quality meat, Jill said.
One of the company's largest roadblocks is shipping.
"The biggest challenge was finding out how to get it to people in an affordable fashion. That remains the one thing that we continue to work on," said Jill, who constantly checks rates for refrigerated shipments via FedEx, UPS and other means.
Enduring long days is also a challenge. "My phone starts ringing at 6:30 a.m.," said Dan, who then pursues morning chores while Jill runs over to their retail store in Rapid City. Their day is spent caring for the buffalo and managing office tasks like invoicing and marketing. It wraps up around 8 p.m.
Bringing back the buffalo population is the couple's ultimate goal. Bison were killed off in a span of 100 to 150 years, Dan said. Between 40 and 60 million bison roamed the Great Plains prior to 1600. By 1900 there were less than 1,000, and today there are around 450,000 in North America, he added.
"We're working with folks to build the herds and bring the buffalo back," said Dave Carter, executive director of the National Bison Association. "Dan has carved out a really strong area: the desire for small-scale, grass-fed production." According to the USDA, 50,000 heads of bison are processed each year, compared to 125,000 heads a day in the beef industry.
Right now "demand exceeds the supply," Carter said.
Wild Idea Buffalo's meat appears on menus at Toro in Boston and Catalyst Restaurant in Cambridge, Mass., and butchers that include Dean & DeLuca and Ottomanelli Butcher Shoppe in New York City.
"It's the only meat I eat. I'd been a vegetarian for 10 years prior to trying buffalo meat," said Steve Gully, owner of Country Meat Market in Goleta, Calif., and a buyer of Wild Idea Buffalo's bison meat for the last year. "It's a little sweeter and has an all-around good, hearty taste. On a daily basis, I'll have two or three phone calls inquiring about the bison cuts I have."