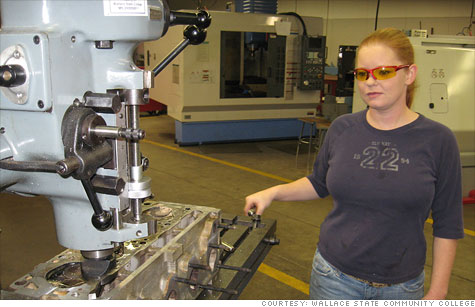 With factories on a hiring spree, manufacturing students in trade schools, such as Alabama's Wallace State Community College are in high demand.
NEW YORK (CNNMoney) -- As millions of young Americans struggle to land jobs, students in manufacturing trade schools are sitting in a sweet spot. They're being hired even before they graduate.
Two weeks ago, students from the manufacturing program in Chicago's Wilbur Wright-Humboldt Park vocational college attended a local job fair.
"Five of our students were hired in just one day," said lead instructor Bryant Redd. The new hires are from a class of 41 students who are still four months away from completing a nine-month advanced certification program in computerized numerical control (CNC) machining.
In the program, students go beyond basic machining with classes in computer design, machine shop technology and machine shop math.
Manufacturers in the Chicago area are busier than ever lately, and they're "begging" for more workers trained in advanced manufacturing skills like CNC machining, said Redd.
It's not just in Chicago. Factory work has picked up considerably nationwide, making skilled workers a valuable commodity, said Marc Smierciak, associate dean of instruction at the vocational college.
"Employers right now need workers with these high-precision skills. But the mismatch is that most of America's unemployed workforce doesn't possess these skills," Smierciak said.
So manufacturers are racing to trade schools like Wilbur Wright, one of only seven schools in Illinois that offer an accredited CNC course, and snapping up newly-minted factory workers as quickly as they can.
The demand for his graduates is so intense that last year's CNC graduating class scored a 100% job placement.
"It's a wonderful accomplishment for us," said Smierciak. It was the first time the school achieved perfect placement in the program's 15-year history. Smierciak expects this year's graduating class to meet with similar success.
To get into the program, students need a high school diploma or the equivalent and can go part-time or full-time.
The starting salary for the new hires averages about $40,000 a year, with the potential to jump to $55,000 to $65,000 in less than two years, he said.
As word spread about last year's record, the school is seeing a rush of new applications. "We usually enroll 20 students max per year," said Smierciak. "We are at overcapacity right now with 27 students in the day program and 14 in the night one."
Some of them are young high school graduates, while others are middle-aged displaced workers retraining themselves for in-demand skills.
Reynaldo Roman, 21, had been thinking about going to college to study electrical engineering when his friend told him about Wilbur Wright's CNC course.
"I did some research on salaries," he said. "After a four-year degree, I might be getting paid as much or less than I would as a certified CNC operator," he said.
As the primary income earner in his family, Roman weighed his options, applied to Wilbur Wright and won a full scholarship to cover the $5,800 CNC program.
"I'm soaking in as much as I can," he said. "I'm hopeful I'll land a job after I graduate."
Norma Trinidad, 50, lost her 23-year factory job after the company went belly up in 2010.
Once when she was at the local unemployment office, she saw a flier touting advanced manufacturing techniques. That got her thinking about updating her skills, particularly since she had done manual machining and knew that more manufacturers were looking for workers with higher-tech skills.
In the past year, Trinidad has acquired five certifications -- some just took a matter of weeks -- in new manufacturing techniques from another vocational school. Now, she's Roman's classmate at Wilbur Wright and on her way to earning three more certifications in high-precision skills.
"I am running out of unemployment. But I'm hopeful to get a job soon," she said.
Jimmy Hodges, dean of applied technologies with Wallace State Community College in Hanceville, Ala., is also seeing high job placement with his graduates.
The school's two-year accredited manufacturing program, costing between $8,000 and $10,000, includes machining, CNC and a course in tool and die making.
Hodges, a machinist himself, said Wallace is getting close to placing 100% of its students, too, driven by a pickup in auto and other manufacturing in the state.
He hopes these stats help change a persistent misconception about manufacturing. "Young people in the country think manufacturing is nasty and dirty," he said. "Not so. It's clean, high-tech, and the pay isn't bad."
Hodges' son graduated from Wallace's manufacturing program in 2005 and landed a $45,000 base pay job with an aerospace maker. "With overtime he's making much more," he said.
His daughter opted for a four-year degree in education from the University of Alabama.
Her starting salary as a 5th grade teacher is about $36,000, said Hodges, adding that she also has $45,000 in student loans.
"My daughter is an awesome teacher," he said. "But who do you think got the better deal?"