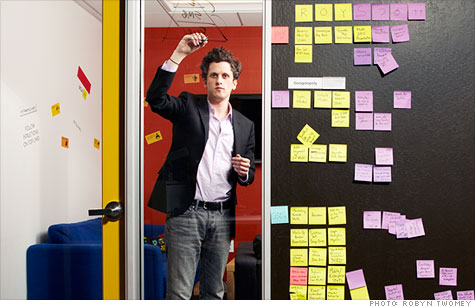 Box's chief executive Aaron Levie in his office in Palo Alto, Calif.
FORTUNE -- "Mark Cuban was an early investor in Box. At the time, we wanted to build two competing models for letting businesses and people share files: peer-to-peer based and cloud based. We didn't know which would succeed. Mark advised us not to hedge our bets; it's counterintuitive -- you learn not to put all your eggs in one basket. If you hedge, you take away resources from one activity for another, so it dramatically decreases your chance of succeeding in the area that will win.
"That was a very good lesson because we had only a few people, and it was hard to run two product lines. We decided to shut down peer-to-peer and focus on the cloud. Success really only comes when you nail one thing. And while you may have made the wrong bet, it's far more likely that you won't succeed at any bet if you're hedging. That's why big companies get indecisive and bureaucratic; they don't know which direction to bet, and it shows up in their product. It requires honesty and clarity to focus, but that's usually how businesses succeed."
Aaron Levie
Age: 27
Job Experience: Co-founder and CEO of Box, a cloud-computing company that provides secure file sharing and content management; dropped out of the Marshall School of Business at the University of Southern California to focus on Box.
Claim to Fame: Launched Box.net in 2005 from his dorm room as a college project with co-founder Dylan Smith, who is CFO; caught the attention of entrepreneur and investor Mark Cuban, who provided angel funding; has raised a total of $162 million from several venture investors, including SAP Ventures,Salesforce.com (CRM), Draper Fisher Jurvetson, and Andreessen Horowitz; 100,000 businesses use Box's services, including 82% of Fortune 500 companies.