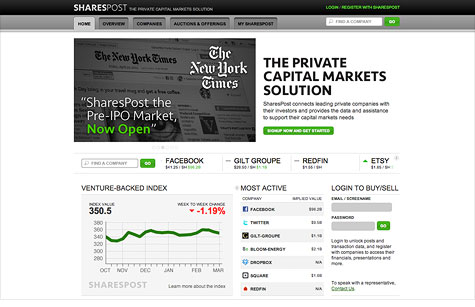 Of the three cases announced on Wednesday, SharesPost's has the deepest implications for the secondary market.
NEW YORK (CNNMoney) -- The party's over. After a yearlong investigation into the trading of private-company stock, the Securities and Exchange Commission filed charges on Wednesday against four firms involved in the shadowy secondary market.
The charges vary against trading platform SharesPost and investment funds Felix Investments, Facie Libre Management and EB Financial, but they all signal the same thing: no more free-wheeling trading in the stock of companies that aren't yet public.
Private markets like SharesPost and its larger rival SecondMarket, which was not one of the companies the SEC charged, burst onto the scene in 2009 to fill a market gap. After the dot-com collapse, the public markets shunned tech companies. But as hot companies like Facebook grew, investors started clamoring for a piece of the action.
Enter SharesPost and SecondMarket, which began experimenting with operating eBay-like exchanges to connect sellers -- typically employees and early investors -- with potential buyers.
The private exchanges are more lightly regulated than public exchanges like Nasdaq and the New York Stock Exchange. That's because "retail" investors -- your average stock buyers -- can't shop on them. Only accredited investors, like investment funds and individuals with a net worth of at least $1 million, can participate.
Sooner or later, participants knew, the SEC would come knocking. The agency kicked off its probe in December 2010 with a "voluntary request for information" to several industry participants.
The charges: Of the three cases announced on Wednesday, SharesPost's has the deepest implications for the secondary market.
The SEC accused SharesPost and its CEO, Greg Brogger, of operating as a broker-dealer -- facilitating deals -- without having obtained a license to do so. (Rival SecondMarket is registered as a broker-dealer.)
SharesPost paid penalties of $80,000 to settle the case, while Brogger himself paid $20,000. In the wake of the investigation, SharesPost acquired a company with a broker-dealer license. That move brought it into SEC compliance.
As Fortune first reported Tuesday, ahead of the SEC's announcement, the second case is against EB Financial Group and managing director Laurence Albukerk. They were charged with hiding mark-ups on their Facebook investments.
"Investors in Albukerk's two Facebook funds ultimately paid significantly more than the fees disclosed in the offering materials," the SEC said.
EB and Albukerk neither admitted nor denied the charges, but they paid a total of $310,499 to settle.
The SEC also charged Frank Mazzola and two of the funds he helms, Felix Investments and Facie Libre, with "improper self-dealing" -- making "secret commissions" on their purchases of Facebook stock. They were also charged with making false statements to investors, including allegedly lying about Twitter's revenue and about buying stock in FarmVille-maker Zynga. That case has not been settled.
Three of the companies named in Wednesday's complaint came up in a CNNMoney investigation last year.
In February 2011, CNNMoney filed Freedom of Information Act requests to the SEC, seeking details of the agency's communications with major players in the private-stock market. The requests included -- among other companies -- SharesPost, Felix Investments and EB Financial.
The SEC denied all of the requests, citing a FOIA exemption that shields records compiled for a still-ongoing law enforcement investigation.
Wednesday's announcement marks an end to the Wild West of a lightly regulated secondary market.
However, its future was already in doubt. The once-frozen IPO waters have thawed, and 2011 was jammed with splashy public debuts, including Groupon (GRPN), LinkedIn (LNKD), Zynga (ZNGA) and Pandora (P).
The hottest startup of them all, Facebook, filed for a $5 billion IPO last month. That immediately set off speculation about whether the secondary market will survive.
SecondMarket -- the industry's biggest player, and one that appears to have escaped the SEC's secondary market probe unscathed -- insists that private-stock exchanges will be a lasting companion to the public markets.
If so, the SEC made it clear this week that they'll have to play by a new set of rules.