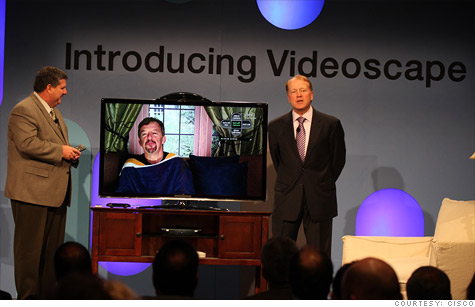 Cisco CEO John Chambers (right) introduced Videoscape in January, which the networking giant says will be integrated with NDS technology.
NEW YORK (CNNMoney) -- Cisco Systems is riding the wave of connected televisions with a splashy $5 billion acquisition deal for NDS Group, a privately held British TV software company.
NDS makes software for about 90 cable and satellite companies around the world, enabling content to be delivered to set-top boxes and DVRs as well as mobile devices. That software is in about 125 million households. NDS also powers the user interface for 40 cable and satellite providers, including DirecTV (DTV, Fortune 500) and Britain's Sky.
Cisco (CSCO, Fortune 500) said NDS's technology will be incorporated with its Videoscape system, which the company unveiled at this year's Consumer Electronics Show in Las Vegas. Videoscape is Cisco's cloud-based solution to help its partners deliver content to users on any device, whether it's on a TV, an iPad or a smartphone.
"We are on the cusp of a whole new wave of digital entertainment experiences that will make video content much easier to find, navigate, interact with and enjoy, on any device and network," said Marthin De Beer, Cisco's video chief.
The video market's transition to Internet-connected devices is critical to service providers, which drive about a third of Cisco's revenues.
It's a market that's attracting big-name players, including Apple (AAPL, Fortune 500), Google (GOOG, Fortune 500), and most recently Intel (INTC, Fortune 500), which is developing its own Internet-based TV service, according to a recent Wall Street Journal report.
Cisco CEO John Chambers called the NDS bid "one of the most strategic acquisitions we've done" and "the best talent acquisition in our history."
Cisco hopes to be the backbone of Internet-based TV services. At last month's Mobile World Congress, Suraj Shetty, Cisco's head of marketing, mapped out a future in which a Cisco user interface would control all content available on a user's television, including Netflix (NFLX), cable programming and on-demand programming.
It's similar approach to the one Apple is taking with Apple TV, though Apple's $99 set-top box is complementary to customers' primary cable or satellite service.
Since Apple TV users have to switch between cable or Apple TV content, the company hasn't yet had much success with its service. Some analysts believe it will become a key player in the market once it delivers on its rumored all-in-one television set.
Seeing an opportunity to get a jump on potential rivals, Cisco said it believes NDS is worth a hefty price tag. It's the fourth-largest acquisition in Cisco's history, and the first billion-dollar purchase since Tandberg nearly two years ago.
For many years, Cisco had been one of Silicon Valley's biggest buyers of technology companies, but its shopping spree quieted recently amid a corporate restructuring that led to massive layoffs and the elimination of many non-core businesses.
The $5 billion Cisco is paying for NDS includes debt and retention-based incentives. NDS is majority-owned by private equity fund Permira, and 49% owned by News Corp. (NWS).