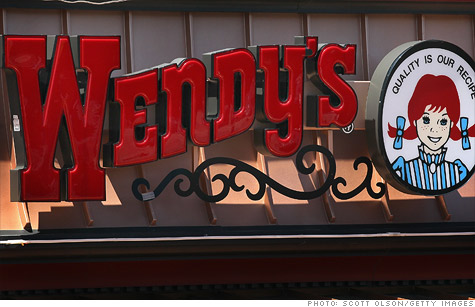 Wendy's U.S. sales totaled $8.5 billion last year.
NEW YORK (CNNMoney) -- Wendy's is taking a bite out of Burger King in the fast food business.

Dave Thomas's restaurants became the No. 2-selling hamburger chain in the country last year, industry research firm Technomic said Monday, pushing Burger King back to the No. 3 spot. Burger King had been No. 2 spot since at least 1972, the earliest year for which Technomic has data.

Wendy's (WEN) U.S. sales totaled $8.5 billion last year, edging out Burger King and its $8.4 billion. Wendy's has roughly 5,900 locations in the U.S. compared with Burger King's 7,200.

McDonald's (MCD, Fortune 500), meanwhile, dwarfed both with over $34 billion in sales last year at its 14,098 U.S. locations. It's the largest restaurant chain in the country, followed by Subway, Starbucks (SBUX, Fortune 500), Wendy's and Burger King. (McDonald's phasing out tiny cages for pigs)
Five Guys Burgers and Fries ranked as the fastest-growing chain in the U.S. last year, Technomic said, followed by Chipotle Mexican Grill (CMG) and Jimmy John's Gourmet Sandwich Shop.