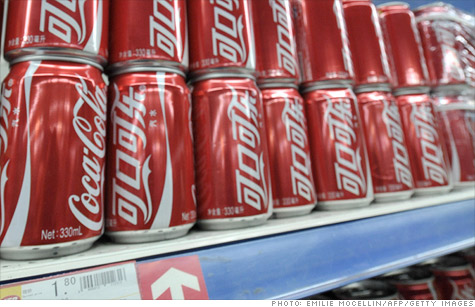 Coca-Cola, Yum! Brands and other well-known U.S. consumer companies are big in China. But will worries about a housing bubble hurt U.S. sales in China this year?
NEW YORK (CNNMoney) -- Is China's economy heading for a hard or soft landing? Well, it looks like Chinese consumers can't get enough of Diet Coke and the Colonel's famous secret recipe. That may be good news.
But China's red-hot housing market may be slowing down a little too quickly. That could be a problem.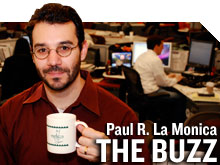 Three major multinational U.S. firms that do big business in China reported their latest earnings in the past few days. And they send a mixed message about the health of the Chinese economy.
Coca-Cola (KO, Fortune 500) said Tuesday morning that its profits topped estimates, helped by a 10% jump in volume in China. Emerging markets are a key focus for Coke as the beverage market matures in the U.S.
Likewise, KFC owner Yum! Brands (YUM, Fortune 500) posted tastier than expected earnings after the bell Monday, and that was due largely to its amazing growth in China.
Same-store sales for Yum's KFC and Pizza Hut franchises in China surged 21% in the fourth quarter. Same-store sales, which measure sales at stores open at least a year, are a key metric for restaurants and retailers.
Yum is arguably the most successful U.S. consumer company in China. It generates nearly half of its overall revenue from China.
However, even if the emerging middle class in China is acquiring more of a taste for some of the top Uncle Sam brands, that may not mean that the Chinese economy overall is impervious to potential pain.
One of the biggest concerns facing China is whether or not its real estate market is a bubble along the lines of what happened in the United States in those naughty Aughties. And there is some evidence that the Chinese housing market is cooling ... perhaps faster than the government there would like.
Emerson Electric (EMR, Fortune 500), a St. Louis-based industrial conglomerate that makes thermostats and other climate control equipment, specifically cited "residential construction weakness in the U.S. and China" in its earnings report Tuesday.
On the one hand, you might be able to spin the housing weakness in China as a good thing. It may mean that China's central bank, which was aggressively raising interest rates and reserve requirements for banks over the past few years to fight inflation, succeeded in killing any asset bubbles.
The latest figures on Chinese inflation are due out later this week. In December, Chinese consumer prices rose at an annual rate of 4.1%, down sharply from a rate of 6.5% just five months earlier.
With inflation less of a problem, China is expected to soon lower interest rates following its first reserve requirement cut in four years last November.
So housing prices should drop. The question is by how much.
"There is a bubble in the housing market in China. There is no doubt about that. But it may not burst as dramatically as it did in the U.S.," said Yulong "Clark" Li, global investment research director at Balentine, a money manager based in Atlanta. "For 2012, the probability of a hard landing in China is still pretty low."
Li added that he thinks the government would even be comfortable with home values falling by about 20% to take some froth out of the market.
But has China gone too far? Emerson said in its earnings report that it did not expect much of a recovery in the housing market in China in 2012.
That could be an issue for all investors. The health of the Chinese economy is key for the recovery in the United States (and entire globe) to remain on track.
China is the biggest foreign creditor of the United States, holding more than $1 trillion of Treasury debt. Interest rates here could skyrocket if China felt compelled to start selling our bonds.
China also has a vested interest in making sure the European debt crisis doesn't deteriorate further, since the EU is China's biggest export market.
And despite some trade skirmishes with the U.S., China still should be viewed as more of a partner to America than an enemy.
So expect some lovey-dovey talk next week when Chinese vice president Xi Jinping, who is widely expected to be the next leader of China, visits President Obama at the White House ... fittingly on Valentine's Day.
China, simply put, is too important to alienate. And like it or not, we should all be rooting for its economy to avoid a U.S.-style Great Recession.
Best of StockTwits: Redbox owner Coinstar (CSTR) announced a new partnership with Verizon Monday and earnings that topped forecasts. There was much rejoicing. But also some skepticism.
firstadopter: FYI 44% of the $CSTR float is short, in this market environment lately that's a big factor. 52 week high is $60.71
Great point. Coinstar's numbers were good. But the stock surging nearly 20% Monday (and now just 1.5% below that 52-week high) may be due to shorts getting squeezed and covering their positions. That's exactly what happened to Netflix after its latest earnings. Speaking of Netflix (NFLX) ...
AronPinson: Moody's: $VZ - $CSTR Jv Poses A Competitive Threat For $NFLX In The Intermediate Term, Although Not Material Enough To Impact Its Ba2 Rating
Netflix is still in the driver's seat in streaming video. But there is so much competition. Hulu. Amazon (AMZN, Fortune 500). Apple (AAPL, Fortune 500). The list goes on and on and on. I still think Netflix longs have to be concerned anytime someone with deeper pockets like Verizon (VZ, Fortune 500) is entering the race.
britboytn: $CSTR NCR, which operates your Blockbuster Express kiosks, has entered into an agreement to sell its kiosks and other assets to Redbox
That is very interesting. NCR (NCR, Fortune 500) had actually sued a trust set up by Blockbuster after the video store chain went bankrupt last year. NCR wanted the right to continue using the Blockbuster name on the kiosks. Looks like Coinstar will now re brand those blue boxes as Redboxes. Could be a blow to Blockbuster's new owner Dish Network (DISH, Fortune 500).
The opinions expressed in this commentary are solely those of Paul R. La Monica. Other than Time Warner, the parent of CNNMoney, and Abbott Laboratories, La Monica does not own positions in any individual stocks.