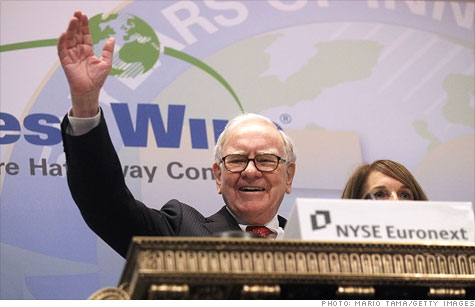 Warren Buffett heads the investment firm Berkshire Hathaway.
NEW YORK (CNNMoney) -- The Buffett Rule won't do much for deficit reduction.
That's the verdict from the Joint Committee on Taxation, which provides the official Congressional analysis of tax legislation.

In a report prepared at the request of Republican staff on the Senate Finance Committee, the JCT says requiring those who make more than $1 million a year to pay at least 30% of their income in taxes would generate $47 billion over the next decade, or an average of just $4.7 billion per year.
To put that in perspective, President Obama's budget forecasts a $901 billion deficit in 2013.
"The President's so-called Buffett Rule is a dog that just won't hunt," Utah's Orrin Hatch, the ranking Republican on the Senate Finance Committee, said Tuesday in response to the analysis. "It was designed for no other reason than politics -- there is no economic rationale for it."
The Joint Committee on Taxation analyzed the "Paying a Fair Share Act," a bill introduced by Senate Democrats last month that would apply the Buffett Rule to today's tax code "as an interim step [to tax reform] that can be done quickly."
The analysis assumes that the income-tax cuts currently in effect expire as scheduled next year, putting the maximum personal income tax rate at 39.6% and the capital gains tax at 20%. That's up from current rates of 35% and 15%, respectively.
The Buffett Rule is named after billionaire investor Warren Buffett, who has repeatedly decried the fact that he pays a lower percentage of his income to the IRS than his secretary.

The "Paying a Fair Share Act" would apply to anyone whose adjustable gross income exceeds $1 million. Those who itemize their deductions would get a credit equal to the value of their charitable contribution deductions, so as not to discourage charitable giving.

To measure whether a millionaire is paying at least 30% of his or her income in taxes, the bill would take into account what the individual paid in federal income and payroll taxes, plus the new 3.8% Medicare surtax that goes into effect in 2013.

In releasing their budget last month, the Obama Administration made clear that they are not pushing to implement the Buffett Rule now. Rather, it's a guiding principle for when -- or if -- Congress takes up tax reform.

The White House has called for the Buffett Rule to replace the Alternative Minimum Tax, which would only exacerbate the government's deficit problem, Hatch said. The Alternative Minimum Tax is projected to raise roughly $2 trillion in revenue over 10 years.