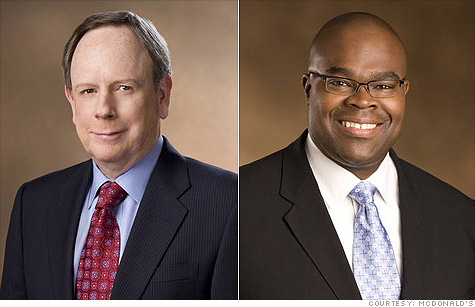 Jim Skinner, left, is retiring as CEO of McDonald's and will be succeeded by company president Don Thompson, right.
NEW YORK (CNNMoney) -- McDonald's CEO Jim Skinner, who is credited with turning the fast food giant around, is retiring.
His successor, company president Don Thompson, will become one of a small group of African-American CEOs at a major company.
Skinner, 67, will retire effective June 30, after 41 years with the company. He took the helm in November 2004 after a period of upheaval in McDonald's executive offices. The previous CEO, Jim Cantalupo died suddenly from a heart attack in April of that year, and Cantalupo's successor, Charlie Bell, had to leave just seven months later due to his battle with colon cancer.
But under Skinner, McDonald's has been able to grow steadily despite global economic upheaval during his tenure.
The company's stock, which had steadily lost ground in the six years before his promotion, has quadrupled in price since Skinner took the top job, climbing at an annual pace of 21%.
In 2011, it was the best performing stock in the Dow Jones industrial average, with shares rising 31%, although shares have slipped 4% so far in 2012. The stock was down in early trading Thursday following the retirement announcement.
Analysis of McDonald's most recent proxy filing, made earlier this month by Footnoted.com, estimates that Skinner's retirement package will be worth $82.3 million. Skinner's total compensation for 2011 came to $8.75 million, according to the filing. Footnoted, a unit of investment research firm Morningstar, performs detailed analysis of company filings.
Thompson, 48, has been with McDonald's (MCD, Fortune 500) for 22 years, serving as president and chief operating officer of the company since January 2010.
His promotion will make him one of three black CEOs among the Dow 30 companies, joining Kenneth Frazier of drugmaker Merck (MRK, Fortune 500) and Kenneth Chenault of American Express (AXP, Fortune 500).