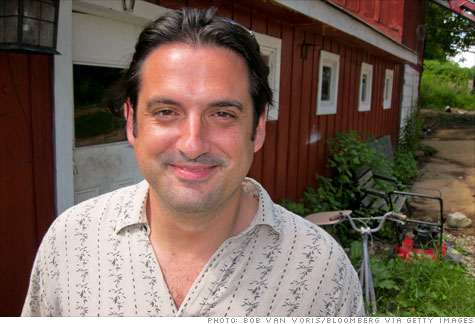 New York State resident Paul Ceglia originally filed the attention-grabbing lawsuit in July 2010.
NEW YORK (CNNMoney) -- Facebook has filed a motion to dismiss the case against it from Paul Ceglia, an upstate New York man who claims he's owed 50% of the company.
Ceglia, who resides in Wellsville, N.Y., filed the attention-grabbing lawsuit in July 2010. Since then, it's been a ping-pong game of court filings from both sides, with new paperwork being filed almost every single month.
In Monday's filing, Facebook reiterated its vehement denials of Ceglia's claims and asked a Buffalo, N.Y., district court to dismiss the case.
"Facebook and [CEO and founder] Mark Zuckerberg have emphatically stated all along [that] this case is a fraud," the company's attorney, Orin Snyder, of Gibson Dunn said in a statement.
Snyder called the lawsuit "fraudulent" and alleged that "Ceglia has forged documents, destroyed evidence, and abused the judicial system in furtherance of his criminal scheme. Ceglia must be held accountable."
Facebook also released emails between Zuckerberg and Ceglia, found on the servers of Harvard University -- where Zuckerberg was a student when the conversations took place in 2003. Facebook says its search did not turn up alleged emails that Ceglia has submitted as evidence.
Ceglia's group of attorneys released a statement: "We have made a preliminary review of Facebook's Motion, which attempts to have this matter ended before Facebook has to provide any discovery and before going to a jury."
Ceglia's attorneys also pointed out they have their own "experts' declarations in Mr. Ceglia's favor about the authenticity of his contract with Mr. Zuckerberg. Mr. Ceglia deserves his day in court, where the jury will resolve this dispute over the ownership of Facebook."
Contract questions: The documents Snyder refers to came to light in April 2011, when Ceglia re-filed his claim against Facebook with a trail of alleged e-mails between himself and Zuckerberg. He also filed a copy of a contract that he says proves he was handed half the company in April 2003.
Facebook has acknowledged that Zuckerberg, who often took on programming work-for-hire assignments during his student days, had business dealings with Ceglia. Back in 2003, Ceglia arranged to pay Zuckerberg for development work on a now-defunct site called StreetFax.
Ceglia claims the contract also covered work on a fledgling site called "the Face Book," something Zuckerberg strenuously denies. The timelines don't match up: Ceglia's alleged contract is dated several months before Zuckerberg began working on the project that became Facebook.
Alleged e-mails: But as the nearly two-year-long case progresses, Ceglia is having trouble providing evidence to back his claims. Last April, Ceglia amended his complaint to include dozens of incendiary e-mails between himself and Zuckerberg, allegedly sent between July 2003 and July 2004.
But a court filing from Ceglia's lawyers said that Ceglia doesn't have the original, digital copies of those e-mails. Instead, he has floppy disks with Microsoft Word documents that contain alleged copy-and-pasted copies of the e-mail messages.
Facebook responded in April by blasting the suit as a "a brazen and outrageous fraud" filed by a "convicted felon and well-known scam artist who has spent the last decade of his life ripping people off."
Facebook's filings have continually cited Ceglia's several brushes with the law, including a 1997 felony conviction for possession of 400 grams of a compound found in certain hallucinogenic mushrooms.
In a June filing, Facebook quoted a document authentication expert who called the contract an "amateurish forgery." It also hired a forensics team to review all of Zuckerberg's messages contained in the e-mail account he used while a student at Harvard. The team found more than 175 e-mails with Ceglia or other StreetFax employees, but it said none of those e-mails mentioned Facebook in any form.
Zuckerberg has sworn under oath that he did not sign the alleged contract, nor did he write or receive the e-mails Ceglia included in his lawsuit.
In June, Ceglia lost his legal representation from Manhattan law firm DLA Piper and Buffalo-based Lippes Mathias Wexler Friedman. It's unclear whether they left the case on their own, or Ceglia dismissed them.
Facebook is likely eager to wrap up the Ceglia saga before its initial public offering. The company filed for a $5 billion IPO in February.