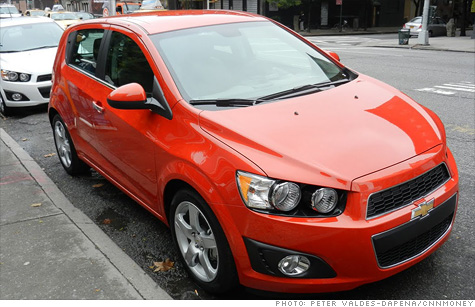 Subcompact cars, like the Chevrolet Sonic, don't usually get fuel economy that's appreciably better than larger compact cars.
NEW YORK (CNNMoney) -- When most people look at really tiny cars they figure they must get really good fuel economy.
And when compared to trucks or family sedans, they do.
But subcompact and mini-cars -- the likes of the Fiat 500 and Chevrolet Sonic -- usually don't get much, if any, better fuel economy than roomier compact cars.
For instance, at 33 miles per gallon, the most efficient version of the subcompact Chevrolet Sonic gets the same overall fuel economy as the larger Chevrolet Cruze Eco compact car. Other versions of those two models differ by only small amounts in combined city and highway driving. (Electric isn't the only 'green car' solution)
Same for the teeny Hyundai Accent versus the larger Hyundai Elantra. Again, both get 33 mpg in combined city and highway driving. The subcompact Ford Fiesta actually does get better mileage than the compact Ford Focus. But the Focus, with 30% more horsepower and 43% more cargo space, gets beaten by just two miles per gallon.
It's even true of hybrids. The tiny Prius C gets the same overall fuel economy (city and highway combined) as the larger Prius. Both are rated at 50 miles per gallon.
What gives?
Aerodynamics, mostly.
No matter how small it is, a car still has to hold people inside comfortably.
"You can shorten it up and make it narrower, but the height of a car can only be so small," said Scott Miller, director of mass, energy and aerodynamics at General Motors, which makes the Sonic and the even smaller Chevrolet Spark, due out soon.
That means that, once you get past compact car size -- the size of an Elantra, Cruze or Focus -- cars start looking like tall boxes on wheels.
That's not the best shape for pushing through the air. Slightly larger cars allow designers to refine the shape to better control airflow around the vehicle. Small cars provide less sheet metal to work with.
"The ideal is a teardrop or a wing shape," said Miller. Short, stubby cars can't even begin to approach a teardrop shape.
Small cars do have some fuel economy advantages, the biggest one being that they are, no surprise, lighter. There's simply less car there which means less metal and less glass. It also means lighter suspension components and less need for heavy crash absorbing body parts since there's less weight to control during an impact.
Very small cars often do beat bigger ones in city fuel economy where wind resistance is less of a factor. But their better performance in city driving, usually a mile or two per gallon, only balances out slightly poorer fuel economy in highway driving.
People don't buy these very tiny cars just for fuel economy, though. For one thing, subcompacts and minicars usually cost thousands of dollars less than larger cars and they are easier to maneuver and park on crowded city streets.
There are some very, very, very small cars -- like the Smart ForTwo and Scion iQ -- in which city fuel economy is more than good enough to meaningfully overtake highway numbers. You'd just better not plan on taking any friends on your next roadtrip.