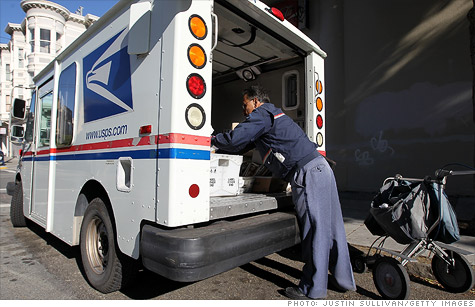 U.S. Postal Service intends to offer incentive packages to woo eligible postal workers to retire.
WASHINGTON (CNNMoney) -- Postmaster General Patrick Donahoe said Tuesday that incentives will be offered to woo some of the 150,000 eligible employees to retire.
"We're going to offer incentives as we move from six to five day delivery," Donahoe told a House hearing on Tuesday. "It's critical to move the head count down."
Mass retirement is key to U.S. Postal Service plans to stem its financial bleeding. As the service moves forward on plans to close 223 postal plants, which could mean the loss of 35,000 jobs, it hopes to ease the pain with retirement packages to those who qualify.
More than one out of every four career employees is now able to retire, Donahoe said, and another 100,000 reach retirement eligibility in the next five years.
Donahoe said at the hearing he'd like to winnow down the number of career employees to about 400,000 from a headcount that numbers 551,570, according to the agency.
The recession, declining volume in the type of mail that most Americans use and a congressional mandate to prefund retirement health care benefits have put the service in a bind. The service reported a $5.1 billion loss for the year ended Sept. 30.
The U.S. Postal Service is, by law, an "independent establishment" of the executive branch. The agency doesn't normally use tax dollars for operations, but it has a $12.1 billion loan from Treasury, as of Jan. 31.
U.S. Postal Service officials have not said how generous the retirement packages would be.
A Senate bill to save the Postal Service would tap an overpayment in the Federal Employees Retirement System to fund some $1 to $2 billion in retirement incentives. The Senate was supposed to start debating the bill this week.
In the bill, the Postal Service could offer buyouts of up to $25,000 or, if an employee is nearing the 30-year threshold for full retirement benefits, as much as two years of service.
House Republicans on the Oversight and Government Reform subcommittee urged Donahoe to "right size" the Postal Service's work force more quickly.
"The U.S. Postal Service continues to inadequately respond to Americans' transition to digital communication and the related decline in first-class mail volume, in large part due to an over-sized workforce whose labor costs account for approximately 80% of the Postal Service's operating expenses," said Rep. Dennis Ross, a Florida Republican who heads the panel, in his opening statement.
But Democrats on the panel praised the Postal Service for working with unions, urging it to focus on attrition and avoid layoffs.
Donahoe also talked about the Postal Service plan to move employees off the federal health care plan by offering a new company plan. He said the Postal Service would contract with an insurer such as Blue Cross Blue Shield or UnitedHealth (UNH, Fortune 500) to provide health care.
Donahoe said officials have "tested" the idea, and believe they can provide employee health care at a cost that's $7 billion cheaper a year than the federal government charges.