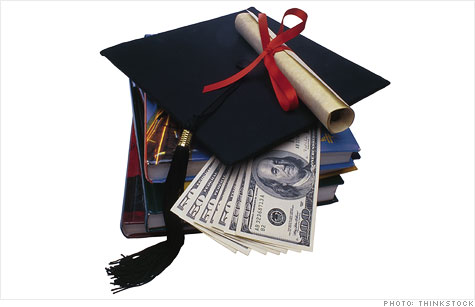 (MONEY magazine) -- More students are relying on loans to help finance their bachelor's degree, and the amount they're borrowing is getting a lot steeper too.
Our roundup of advice -- insider secrets from college counselors, administrators, and parents in the trenches -- can guide you in finding reasonable student loans. Each secret alone may be worth a few hundred to a few thousand dollars.
Our secrets will also help you tame tuition and rising room and board costs, as well as negotiate a reasonable financial aid package.
Loans: What they tell you
Most colleges package at least $5,500 in federal student loans into their standard aid offers. The most common: a Stafford loan, with a stated rate of 6.8%. Many also include federal parent PLUS loans, with a 7.9% fixed rate.
What they don't tell you
Fees of 1% for Staffords bring the real rate on these loans to 7%, while 4% upfront charges push the PLUS loan's annual percentage rate closer to 8.8% -- pricier than other options available to parents with good credit.
Savings secrets
Max out federal student loans. The best college loan deals are federal student loans, says Mark Kantrowitz, publisher of Finaid.org. No matter how much Mom or Dad makes, every student attending at least half-time can get a Stafford loan of at least $5,500 (freshmen) or $7,500 (upperclassmen). Though the rate is on the high end, Staffords come with valuable perks, including a flexible repayment option, which caps your child's monthly student loan bills after graduation at 15% of his disposable income.
Make an asset of your assets. One you can tap cheaply and easily: whole life insurance. Although these policies are usually considered poor investments because of their high fees, parents who already have them and have built up healthy balances can enjoy one big perk now -- you can borrow against that balance to pay college bills, suggests Rick Darvis, a co-founder of the National Institute of Certified College Planners.
The investments inside the policies will keep growing; so assuming a 4% average annual return and a typical loan rate of 5% or 6%, your net cost of borrowing is only 1% or 2%. Loans against other assets, such as 401(k) accounts or home equity also offer attractive rates below 5%. Darvis and other advisers, however, frown on tapping these critical retirement buttresses for college.
Shop for cheaper loans. PLUS loans offer unique repayment advantages, such as the ability to stretch out payments for up to 25 years and suspend payback if you lose your job.
Drawback: Their high effective rate means you end up paying a lot for privileges you may never need. If your state is among those that offer their own low-cost college loan program to all residents, you may get a better deal there.
North Dakota, for instance, offers loans at about a fixed 5% rate to students from or attending college in the state as well as 6.4% loans to students from or attending college in five neighboring states.
Some nonprofits and charities also offer low-cost college loans. The Military Officers Association of America, for one, offers interest-free loans of up to $5,500 a year to children of soldiers or veterans with a GPA of at least 3.0.
Be wary, though, of rates "as low as 3%" touted by credit unions and banks on student loan shopping sites such as SimpleTuition, CUStudentloans.org, and Overture Marketplace. The average rate offered to applicants after credit checks is closer to 5.6%, Overture reports.
And since that rate is variable and likely to rise eventually, SimpleTuition CEO Kevin Walker warns, you "have to be really confident that you can and will pay that loan off within about five years" -- in time for your child's first big reunion.
Secrets to Paying for College:
For everything you need to know about what college will actually cost you and how to make it more affordable, see our College 101 guide.