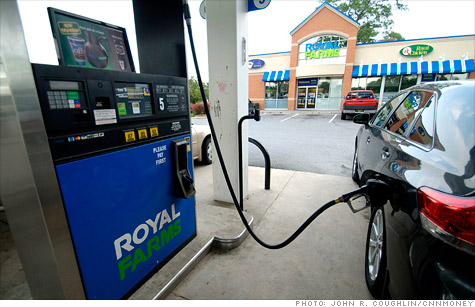 Summer travel plans for both vacationers and business travelers are going to take a hit because of rising gas prices.
NEW YORK (CNNMoney) -- Rising gas prices are likely to curb summer travel plans for both vacationers and business travelers, according to a trade group's survey.
The U.S. Travel Association said Tuesday that its survey of 2,500 households conducted earlier this month found 44% said the higher gas prices would cause them to take fewer vacation trips this summer, while 37% said they would take shorter trips. Some people said they would do both.
Only 19% said they would take fewer business trips because of higher gas prices, but more business travelers said they would cut back other spending on the road, including 28% who plan to spend less at restaurants, and 22% who would cut back on spending on hotels.
The average gas price was $3.898 in Tuesday's reading for regular unleaded conducted for AAA, the 18th straight day of increase. Prices are now up 19% so far in 2012, and are about 5% below the record high of $4.114 reported on July 17, 2008.
Of course, the higher oil prices aren't just being felt at the gas pump. Airfares are also climbing, and those surveyed said those higher fares will affect their travel plans as well.
Both business and vacation travelers said their first response will be to change travel plans to take advantage of lower fares, such as giving up non-stop flights or changing carriers.
In addition, 27% of vacationers and 20% of business travelers said they would take fewer flights this summer due to higher airfares. In addition, 10% of vacationers said they would change modes of transportation due to the higher airfares. And significant numbers of both groups would cut spending on other items, such as food and lodging.
Real-time figures for airfares aren't available as they are for gas prices. But Airlines for America, the industry trade group, said the amount airlines charge per passenger mile in the first two months of this year was up 7.4% compared to a year earlier.
The higher prices could also affect behavior into the fall, with 43% of all travelers saying higher oil prices could have an impact on their votes for president and Congress in November, while 32% said it won't impact their vote, and 25% aren't sure.