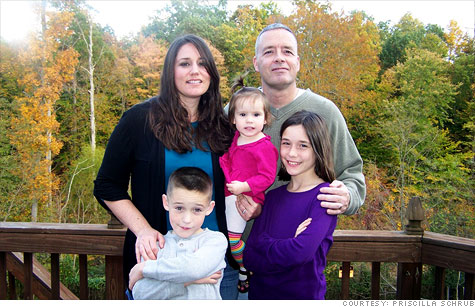 Priscilla Schrubb is married to a Marine and has relocated five times.
NEW YORK (CNNMoney) -- Unemployment, debt and a troubled housing market are plaguing families across the country, but for those in the armed forces, there is an even bigger burden to bear.
Often young and required to move frequently, many military families struggle to maintain a two-income household, find affordable childcare and save for the future.
Service members and their families have a tougher time because the military isn't a high-paying job and most "are very young and without formal financial literacy training," said Robert Joshua, executive vice president at Navy Federal Credit Union, which serves military and civilian personnel and their families.
The average junior enlisted member with less than four years' experience earns just over $40,000 a year, including housing and food allowances, according to the Defense Department. The salary goes up, however, for service members with families. Those who are married with two kids earn $52,000.
"Survival is the basic concern," said Joseph Montanaro, a certified financial planner at USAA, a military-focused financial services company. "When you have that challenge right in your face it's hard to look ahead 20 or 30 years."
Constantly on the move: Compounding the financial issues military members face is the fact that they are often relocating.
According to the Department of Defense, military families move 10 times more often than civilian families.
For Priscilla Schrubb, who is married to a Marine and has relocated five times, there are plenty of unforeseen costs that aren't covered in the military's cost of living allowances, special programs or subsidies.
Flying her family of five from their home in Quantico, Va., to see the in-laws in Texas, for example, is one of them. "When a trip costs $3,000, you can't take too many of those. We haven't seen them in five years and that's a long time for our kids to go without seeing their grandparents."
And while the military offers child-care centers on some military bases and subsidizes a portion of the cost, it's not the same as having family or friends available to provide childcare in a pinch. "This weekend I paid over $30 for a teenager to watch our kids while I went to a meeting at church," Schrubb said. "Not having family support is one of those big things."
During the housing bust, the frequent moves have come at an even higher cost for some military families.
When Scott Haselden, an operations officer for the Air Force, received a permanent change of station in 2007 to Moody Air Force Base in Georgia from Andrews Air Force Base in Maryland, he and his wife, Laura, were unable to sell the home they had bought for $314,900 in 2005 -- at the height of the housing boom.
In a bind, the Haseldens rented the property out instead, but the rental income was not enough to cover the payments on their adjustable-rate mortgage. "We were paying $700 a month out of pocket to cover the difference," Haselden said.
The couple finally sold their home, with the help of the Department of Defense's Homeowners Assistance Program, or HAP, for $220,000 last year. HAP covered the $90,000 difference between the mortgage and the purchase price but in the years before it sold, the Haseldens lost more than $30,000 on monthly carrying costs.
Out-of-work military spouses: For military spouses, constantly moving means constantly looking for work. And when the spouse isn't working, the family is down to one income.
Andia Dinesen, who is married to a securities forces officer in the Air Force, holds a degree in psychology from Northern Arizona University but has hardly been able to use it. Since she and her husband have moved seven times in 11 years, she has only managed to get one full-time job as a financial counselor -- a position she landed just last year.
"There were things that I wanted to do with my degree that were not feasible because we were on the move. I would have to relicense in every state," she said.
About 35% of military spouses work in professions that require state-issued licenses, including teachers, nurses, childcare providers, dental hygienists and real-estate brokers.
For them, transferring a license from one state to another amid frequent relocations is extremely difficult. "When you are moving every 18 months to three years, spouses often have to leave behind a job," said Gerri Walsh, foundation president of the Financial Industry Regulatory Authority, or FINRA.
As a result, the unemployment rate for civilian spouses of active duty service members is 26%, according to a Feb. 2012 report by the Department of Defense. That's over three times the national unemployment rate of 8.3%.
Those who are employed are also more likely to earn less than those in the general population, even though 35% of military spouses have at least a bachelor's or advanced degree.
Last month Michelle Obama and Jill Biden addressed the National Governors Association, urging state governors to pass legislation that supports military spouse license portability, which would allow them to transfer an existing license to a new state with less paperwork and hassle.
"It's very easy for us to recognize the men and women in uniform because they're in uniform," the First Lady said at the time, "but their families serve, too."