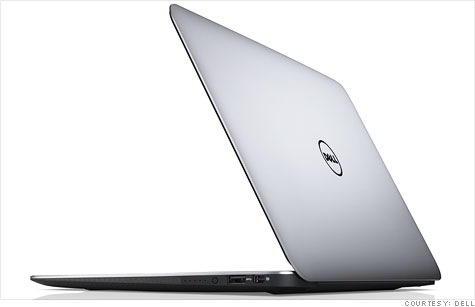 Intel promised that ultrabooks would make up 40% of laptop sales by the end of the year, but it's got a long way to go to reach that target.
NEW YORK (CNNMoney) -- The personal computer industry is talking about ultrabooks the way New York Jets fans are talking about Tim Tebow: like a potential savior.
So where are the ultrabooks?
Intel (INTC, Fortune 500) first unveiled its ultra-thin laptop plans last May to great fanfare. "Finally, technology has caught up with your expectations," the company said in its slogan about the less-than-an-inch thick, instant-on, always-connected devices with eight-hour battery life.
PC manufacturers gleefully showed off their ultrabook concepts at the Consumer Electronics Show in January, and Intel claims that it has licensed more than 75 designs that will come out this year. More than 20 ultrabooks are currently on the market.
Yet fewer than 1 million were sold last year, according to IHS iSuppli. Ultrabooks accounted for just 2% of all notebook sales during the holiday season. That's a far cry from Intel's goal for ultrabooks reaching 40% of all consumer notebook sales by the end of 2012.
Intel says not to worry.
"We said all along, 2011 was about getting into the game, and 2012 is about taking it to the masses," said Jon Carvill, spokesman for Intel. He noted that last year's ultrabook sales, though puny, actually met Intel's internal forecasts. (The company hasn't disclosed what those forecasts were.)
But to get to a point at which four in every ten notebooks sold will be ultrabooks, Intel will need to up its game. In a few weeks, we're about to see that happen in a big way.
In early April, Intel will launch its largest marketing campaign since 2003, when it introduced the Centrino processor (remember those Mariah Carey commercials?).
The flashy ultrabook campaign will consist of both television and online advertising and will cost Intel many hundreds of millions of dollars, according to Bob O'Donnell, head of clients and displays research for tech research firm IDC.
"We're on the cusp of them kicking up the volume, and the ads are going to be pretty darn good," said O'Donnell, who has previewed the spots.
The marketing blitz will coincide with the release of Intel's new Ivy Bridge processor. The much-anticipated, next-generation chip will improve ultrabooks' graphics, battery life, responsiveness and ability to support touch screen technology for Microsoft's (MSFT, Fortune 500) Windows 8 release expected later this year.
Meanwhile, PC manufacturers like Hewlett-Packard (HPQ, Fortune 500), Dell (DELL, Fortune 500), Acer and Toshiba are doing everything they can to lower ultrabooks' prices, which start at $800 but are mostly in the $1,000 range.
"The No. 1 reason why ultrabooks have not sold well to date is that they're too expensive," said O'Donnell, who believes $700 is an inflection point for consumer adoption.
One primary component that's jacking up the price is their solid-state "Flash" hard drives. They offer much faster boot and wake times than traditional, mechanical hard drives, but they're far more expensive.
As a result, some PC manufacturers will soon be installing "dual drives" on ultrabooks in the coming months, combining a traditional hard drive with just enough Flash storage to wake and boot the computer quickly. That could result in about $100 in savings, O'Donnell anticipates.
Lastly, some consumers have stayed away from ultrabooks due to the relatively small 13-inch screen that dominates the current lineup. That's about to change, according to Angela McIntyre, analyst at Gartner, who says that 14.9-inch and even larger models are coming in the summer.
Those five factors -- a huge ad campaign, the Ivy Bridge processor, lower price points, larger screen sizes and Windows 8 rejuvenating interest in PCs -- just might get Intel to its 40%-of-notebook goal by the year's end.
IDC anticipates 25 million ultrabooks will be sold this year -- a number that includes Apple's (AAPL, Fortune 500) MacBook Air. The vast majority of those will be sold in the second half of the year, with a real ramp-up once Windows 8 is released, presumably just before the holiday season. Next year, IDC expects 43 million ultrabooks to be sold.
But there are also non-believers who say the current consumer ambivalence towards ultrabooks is unlikely to change.
"What Intel doesn't understand is that there's a very specific niche use-case for an ultrabook," said Zeus Kerravala, an independent technology analyst. "Even hardcore Mac users will tell you the MacBook Air is a toy."
Although many analysts predict that the ultrabook is the future design for all laptops, Kerravala expects tablets like Apple's iPad, not ultrabooks, to dominate the ultra-portable space in the future.