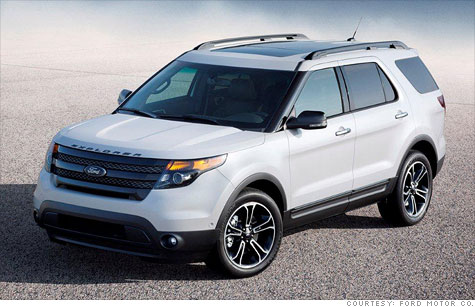 The new Explorer Sport is expected to appeal to those who want practicality but a little more excitement.
NEW YORK (CNNMoney) -- Ford Motor Co. revealed the first high performance version of the automaker's Explorer SUV on the brand's Facebook page Wednesday. The new SUV will be officially unveiled at the New York Auto Show next week.
Ford (F, Fortune 500) calls the new all-wheel-drive Explorer Sport the most fuel efficient high performance SUV available. It will be powered by a turbocharged V6 engine producing at least 350 horsepower. It is expected to get 16 miles per gallon in city driving and 22 on the highway or one mile per gallon less than a standard all-wheel-drive V6 Ford Explorer.
The most powerful Explorer now on the market has a 290-horsepower non-turbocharged V6.
The Explorer Sport is not the first high-performance SUV nor is it the most powerful. Chrysler Group offers the Jeep Grand Cherokee SRT8 powered by a 465-horsepower 6.4-liter V8 engine which gets 14 mpg in the city and 18 on the highway.
A number of luxury automakers, including Porsche, Mercedes-Benz, BMW and Land Rover, also offer high-output versions of their SUVs.
The Explorer Sport will have a six-speed automatic transmission with steering wheel-mounted paddles so drivers can shift gears themselves.
The Explorer Sport's chassis has been bolstered to improve handling, Ford said. It also has larger brakes for quicker stopping and the steering has been tuned for added responsiveness.
Despite being set up for driving performance, the Explorer Sport will still have the same computer controlled "Terrain Management System" found in other Explorers with its settings for sand, snow, mud and rough surfaces.
While high-performance SUVs may appeal to a narrow market, they don't cost much for automakers to create, pointed out Motor Trend magazine editor Todd Lassa. The engines used in these SUVS are also used in cars and, in the case of the Explorer, the vehicle's basic engineering is shared with many other Ford vehicles including the Taurus sedan.