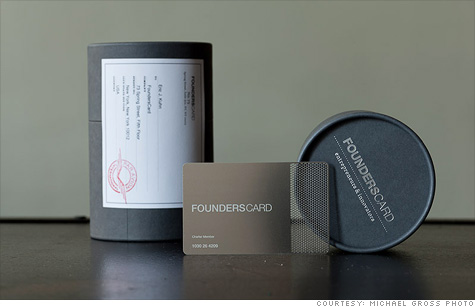 NEW YORK (CNNMoney) -- If you're running a tech startup, chances are you've heard of FoundersCard. It's essentially the "black card" for entrepreneurs, offering up perks, networking opportunities and something even more coveted: an aura of exclusivity.
A FoundersCard membership brings discounts at more than 250 merchants that cater to the tech crowd, like Virgin Atlantic -- the airline of choice for many in Silicon Valley -- and the Ace Hotels mini-chain, where Facebook founder Mark Zuckerberg likes to crash. Even Apple (AAPL, Fortune 500) has signed on, giving FoundersCard members access to its "preferred pricing" program, which offers a smattering of discounts and freebies.
The concept was hatched two years ago by Eric Kuhn, who set out to create the kind of loyalty card he wishes he'd had during his first entrepreneurial stint.
Back in 1999, Kuhn founded Varsity Books, an online textbook retailer that raised scads of money, went public and then went bust. The ailing company got kicked off the Nasdaq exchange after its share price plunged. After years of rebuilding -- and a re-listing on Nasdaq -- Kuhn sold the company in 2008 to textbook distributor Follett Corp. for around $3.8 million.
Kuhn says his dot-com roller-coaster ride was the inspiration for FoundersCard.
"I modeled it after the way I was traveling when I was running around," he says. "I always wanted to stay in great places and to be able to take advantage of upgrades."
FoundersCard cultivates ties with merchants, especially hotels, that are popular with the tech set. There are currently around 5,000 cardholders, but it's a gated community: potential members must apply and submit details on their professional qualifications. The acceptance rate hovers around 65%, Kuhn says.
Membership isn't cheap. The card carries a $495 annual fee (plus a $60 sign-up charge), though almost no one pays full price. Get a referral and you'll qualify for a discounted rate, currently $295 a year.
Is it worth it? For startup founders on a budget, discounts on fancy hotels and luxury goods probably won't pay off. Few of FoundersCard's perks are exclusive. Apple, for example, offers its preferred pricing pretty widely to employers and membership organizations.
"I was thinking of getting one but I don't think it would be worth it. I don't travel enough," says NYC on Rails founder Avi Flombaum.
In a Quora thread on the card's pros and cons, TechStars co-founder Brad Feld chimed in: "I've got one but I've never used it."
But some entrepreneurs -- especially dedicated road warriors -- love their FoundersCard. The company's networking events for members are often a tech scene who's who, with recent gatherings in San Francisco and New York drawing attendees from Facebook, Foursquare, Google (GOOG, Fortune 500) and hot startups like Milk.
"A lot of the early adopters were pretty prominent names in tech," says Colin Nagy said, an advertising executive at digital creative agency Barbarian Group.
Philip James, the founder of private-sale wine and food site Lot18, says the discount on his AT&T bill alone is enough to pay off his annual fee. He's been a member for two years.
"A lot of the lifestyle and business benefits are actually useful to a small company," he says. In Lot18's early days, he used the card's UPS discount to save up to 32% off shipping costs -- a concession usually reserved for bigger businesses.
Catering to its tech audience, many of FoundersCard's perks are offered both by and for its members. The card features discounts on errand service TaskRabbit because TaskRabbit's founder is a cardholder. The same goes for transportation app GroundLink, whose general manager is a member.
Retailers don't pay for inclusion. FoundersCard makes its money primarily from annual membership dues, Kuhn says. It also picks up corporate sponsorship for some of its networking events.
For James, those events are a prime marketing venue. He's attended several, and Lot18 has been a sponsor for some.
"Getting in front of wealthy people -- or in the case of founders, one-day wealthy founders -- and people who like wine is a part of our marketing tactic," he says.
Nagy, who has been a member for years, says the biggest challenge will be maintaining "the entrepreneurial spirit" as FoundersCard expands and draws in more members.
"The exclusivity and the vetting process will be important," he says.