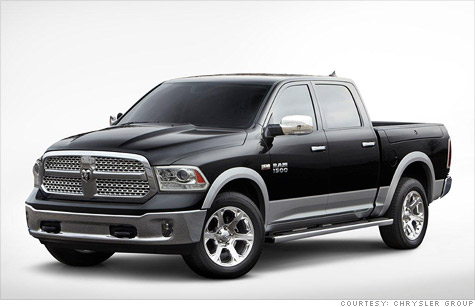 The redesigned Ram pickup doesn't look much different -- there are subtle changes to the grill and headlights -- but Chrysler promises much improved fuel efficiency.
NEW YORK (CNNMoney) -- With gas prices rising, even truck fans are looking to go easier on the stuff. So the latest version of Chrysler Group's Ram truck, being unveiled at the New York Auto Show, is geared to minimize fuel consumption.
Chrysler boasts that it will be the most fuel-efficient non-hybrid full-sized truck sold in America.
The new Ram -- the Dodge name has been dropped -- will be the first pickup available with an eight-speed transmission, Chrysler said.
Ram buyers will be able to choose between a 5.7-liter V8 or 3.7-liter V6 engine. The new V6 will produce considerably more power than the Ram's current V6 engine with 20% better fuel economy, Chrysler said. That would mean the new Ram truck should get combined city and highway fuel economy of better than 19 miles per gallon compared to 16 mpg in the current V6 Ram.
Today, only about 10% of Ram trucks sold are equipped with a V6 engine with the vast majority of buyers opting for the big Hemi V8.
A new eight-speed transmission will also be available with both engines.
Recently, many truck makers have been emphasizing better fuel efficiency. Ford (F, Fortune 500), for example, has found major success with its EcoBoost V6. However, the fuel economy benefit of the EcoBoost V6 compared to Ford's 5.0-liter V8 engine is rather small (only about one mile per gallon).
Ford's V6 and EcoBoost V6 trucks get 18 and 19 miles gallon in combined city and highway driving, respectively
The new Ram V8 will offer better fuel economy than Ford's EcoBoost V6, while the Ram V6 will beat Ford's non-EcoBoost V6, Chrysler spokesman Nick Cappa said.
Chrysler expects more buyers to opt for the V6 engine, especially since it's now offered in the Crew Cab and 4-wheel-drive models that were previously available only with the big V8.
In addition to the new engine and transmission, the new Ram will have an automatic "start-stop" system that will shut off the engine whenever the truck pauses at a stop light or stop sign.
Also, the new truck has adjustable air suspension. At highway speeds, the suspension automatically lowers the truck one inch for better aerodynamics.
Various parts of the truck have also been redesigned with lighter materials to save weight. For example, the new frame, made with high-strength steel, is 30 pounds lighter, while the new aluminum hood is 26 pounds lighter.
One big change for Ram truck drivers will be the way they use the new transmission. Instead of the usual stick-like gear selector, drivers will switch from Park to Drive or Reverse using a knob in the dashboard. The knob, similar to that used in Jaguar luxury cars, frees up more space inside the cab compared to traditional gear selectors.