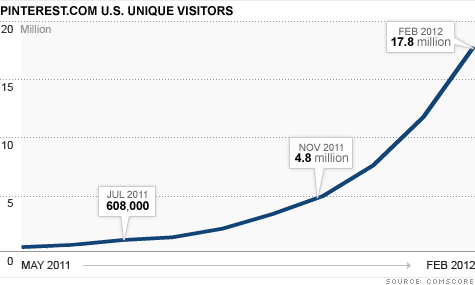 NEW YORK (CNNMoney) -- Pinterest co-founder Paul Sciarra said late Monday that he is departing the suddenly super-hot startup.
Sciarra was listed in regulatory documents from 2010 as president and CEO of the company. That's a role co-founder Ben Silbermann has essentially taken on in recent months, though it's not clear if he officially holds the title.
Silbermann did not immediately respond to a request for comment.
"After lots of reflection and plenty of discussion with Ben and others, I've decided that now is a good time for me to step down formally from day-to-day involvement," Sciarra said in a blog post.
Sciarra will be moving on to an entrepreneur-in-residence position at Andreessen Horowitz, a Pinterest investor.
Sciarra, along with Silbermann and designer Evan Sharp, founded Pinterest more than three years ago, but the company abruptly caught fire -- and the attention of Silicon Valley -- just a few months ago.
The service, which allows users to create a virtual pinboard showcasing items they find around the Web, went viral, rapidly signing on millions of users. Its monthly visitor count soared from less than 500,000 a year ago to more than 17 million in February, according to the latest data from traffic tracking firm ComScore.
The Palo Alto, Calif.-based social network has collected more than $37 million from a host of high profile investors, including from SV Angel, Highline Venture Partners and Bessemer Venture Partners.
It's not uncommon for startups to shed some of their early founders as they grow. Twitter, for example, has played musical chairs, with most of its founding team stepping down last year.
But things have been especially active in recent weeks, with several prominent startups doing a spring cleaning on their management teams. Just recently, Foursquare co-founder Naveen Selvadurai said he would be taking a back seat at the company he helped create.
"After three years, i feel i've done all i can do and i'm moving on. dennis and i have been discussing timing for a while, and we decided that now, on this anniversary, it feels right to begin the transition," Selvadurai posted on his blog.
Groupon competitor LivingSocial is also making changes. In late March, CEO Tim O'Shaughnessy broke the news that co-founder Eddie Frederick was stepping down from the company and its board.