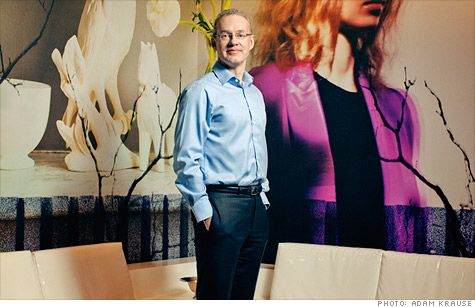 Kevin Ryan at the Gilt Groupe headquarters in New York City
FORTUNE -- "When I was 32, I joined DoubleClick a couple of months after it was started by Kevin O'Connor and Dwight Merriman. Before, I had always worked for large companies. After two weeks Kevin came to me and said, 'You need to move faster. The only advantage that a startup has is that it moves faster.'
"One of my first tasks was to get office space. At my previous companies, that was a nine-month process: You interviewed every senior executive to see what they wanted, you looked at 25 buildings with brokers, and you narrowed it down. Kevin said, 'I want you to find a space in the next four days.' I said, 'That's impossible.' But it is possible because you don't consult anyone about what office they want. In four days I got office space. It wasn't great, but it didn't matter. We reduced the amount of time we spent on the search 95%, so I was spending my time on hiring, building product, raising money -- the things I needed to do."
Kevin Ryan
Age: 48
Job experience: Co-founder, chairman, and CEO of AlleyCorp, an incubator of affiliated Internet companies -- Gilt Groupe, Business Insider, and 10gen -- based in New York City; co-founder and CEO of luxury website Gilt Groupe; former president and then CEO of DoubleClick; former executive with Disney and Prudential
Claim to fame: From 1996 to 2005 built DoubleClick into a digital ad giant; it was sold in 2005 to private equity firm Hellman & Friedman for $1.1 billion; Google purchased the company in 2008 for $3.1 billion.