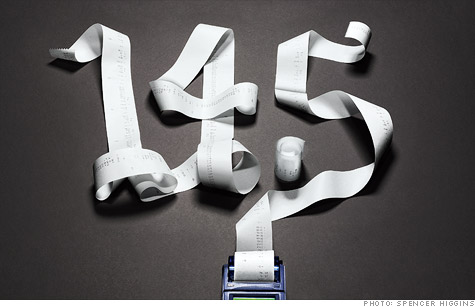 (MONEY Magazine) -- At 14.5%, credit card interest rates are up three percentage points over the past three years, reports Bankrate.com -- a big split from mortgage and auto-loan rates, down more than a point to record lows.
Why so? The 2009 CARD Act, which limited overdraft fees and rate hikes for current cardholders.
"Issuers said, "We'll just raise rates before you become a customer,'" says Bill Hardekopf, CEO of comparison site LowCards.com.
What to do
Have a balance? Issuers are making deals.
The average length of 0% balance-transfer offers hit 9.7 months in 2011, up 30% from the prior year, says Cardhub.com.
For example, the Discover More Card offers 0% interest on balance transfers for 15 months, with no annual fee and a 3% balance transfer fee.
Pay off each month? Interest rates don't matter, then, so go for rewards.
The Chase Sapphire Preferred Card doles them out quickly, awarding 40,000 bonus points if you spend $3,000 in the first three months.
Do you know a Money Hero? MONEY magazine is celebrating people, both famous and unsung, who have done extraordinary work to improve others' financial well-being. Nominate your Money Hero.