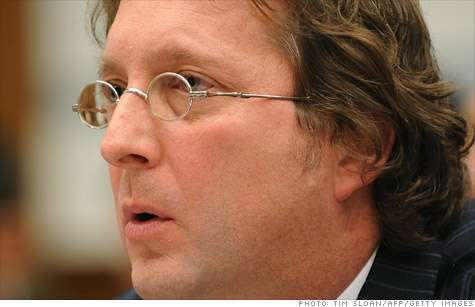 Philip Falcone's Harbinger Capital Partners sank billions into LightSquared -- an ambitious venture that now teeters on the brink of collapse.
NEW YORK (CNNMoney) -- The end appears near for LightSquared, one of the wireless industry's grandest and riskiest gambles.
It's odd to think of a company backed by $5 billion as a startup, but that's what LightSquared is. It wanted to become the country's fifth nationwide wireless carrier by going toe-to-toe with giants like Verizon and AT&T -- an ambitious vision it had a real shot at pulling off.
Now, after a series of potentially fatal regulatory setbacks, it's mulling bankruptcy. Philip Falcone, head of LightSquared's majority owner Harbinger Capital Partners, told Reuters the company is "seriously considering" the option.
In a subsequent email to CNN, Falcone said: "I've said it is and always has been one of our options."
Chapter 11 wouldn't necessarily spell the end, but it would move the goal posts much farther away. That's a disaster for a company already backed up in its own end zone.
The unraveling began in February, when government regulators said they would bar the company from launching its network. LightSquared failed to convince the Federal Communications Commission and the National Telecommunications and Information Administration that its network would not interfere with GPS signals.
CEO Sanjiv Ahuja stepped down two weeks later. In March, LightSquared's biggest partner, Sprint Nextel (S, Fortune 500), ended its $9 billion agreement with the company.
In a time when many big companies prefer sitting on their cash to making major capital investments, LightSquared swung for the fences. Building a nationwide wireless network from scratch is bogglingly expensive, but LightSquared is backed by a nearly $3 billion investment from Harbinger and more than $2 billion from other investors.
What made those investors believe their billions could pay off was that LightSquared is sitting on a truckload of valuable wireless spectrum.
LightSquared hoped to enter the wireless market as a wholesale provider of 4G service. That means it would provide the infrastructure and the network, but it would rely on its business partners to sell the service. Carriers aren't exactly known to be good retailers, so the thinking was, "Why not let the experts handle that?"
The idea took off: The company signed 40 partners from a wide array of businesses, including retailers like Best Buy (BBY, Fortune 500), device manufacturers like AirTouch and other carriers like Sprint and Leap Wireless (LEAP).
By partnering with LightSquared, Best Buy could have sold devices with Best Buy branded wireless service, Sprint could get much-needed capacity, and device makers could package service with their smartphones. Imagine one day being able to buy an iPhone with Apple's (AAPL, Fortune 500) own wireless service.
LightSquared planned to severely undercut its competition. By selling only efficient 4G service -- and not operating legacy 2G and 3G networks that are costly to maintain -- LightSquared said it could offer its service starting at just $7 per gigabyte.
Verizon and AT&T offer data rates of around $15 per gigabyte. But smartphone customers are required to buy voice and data packages, which start at $75 for 450 minutes and 2 GB. Since few actually come close to reaching their limits, the average U.S. smartphone customer pays about $56 for every gigabyte they use, LightSquared claims.
"You can triple or even quadruple our rate, and it's still a dramatic savings over what consumer pays today," former CEO Ahuja told CNNMoney in late 2011. "We think the average price of wireless service should drop by 50% once we launch. The American consumer is simply paying too much."
LightSquared was attempting to fill a niche that no one else is playing in.
Verizon (VZ, Fortune 500) and AT&T (T, Fortune 500) are reluctant to sell their services wholesale, because spectrum is so scarce -- and even if they did, they wouldn't be able to match LightSquared's proposed prices.
There's also Clearwire (CLWR), but Clearwire's model is primarily to sell supplementary coverage in high-density areas to existing carriers. Other potential entrants, like cable giant Comcast (CMCSA, Fortune 500), kicked the market's tires and fled. The investment costs are simply too steep, Comcast executives have said.
Of course, when things sound too good to be true, they usually are.
LightSquared's spectrum was originally licensed only for satellite services, not the much stronger terrestrial transmissions LightSquared wants to put there. Its entire business hinges on getting a waiver for its spectrum use.
That initially seemed likely. The Federal Communications Commission granted a temporary waiver, and powerful Washington backers supported LightSquared's vision.
But concerns about signal interference with GPS devices plagued LightSquared, and in the end, regulators decided that it was too risky. They revoked the waiver.
Falcone says he remains determined to fight the good fight. But if LightSquared doesn't get regulatory green lights by the end of the year, the company will run out of money and will be forced to sell off its assets, according to Jonathan Chaplin, analyst at Credit Suisse.
That's because LightSquared has relatively fixed costs -- with or without customers.
The company predicts its network and infrastructure will cost $30 billion to operate and maintain over the course of the next five years. It will cost LightSquared $30 billion to operate a network with zero customers and $30 billion to run a network with 25 million customers.
With customers, Chaplin thinks the venture could have been profitable just a few years after launching. But Chaplin now thinks that other potential customers will follow Sprint's lead and dissolve their deals.
"The great shame about LightSquared is that it could have stirred up the industry, and it could have benefited consumers tremendously," Chaplin said. "But with no spectrum, there's just the fixed cost of running a network."
Hence the bankruptcy chatter. That's the risk of giant gambles: Sometimes you roll snake eyes.
But if LightSquared collapses, it will take with it the wireless industry's best shot at launching an entire wave of new rivals to the strengthening AT&T/Verizon duopoly.
-CNN's Felicia Taylor contributed to this story