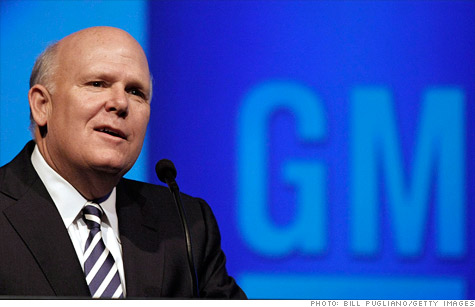 GM CEO Daniel Akerson's pay will be frozen for another year.
NEW YORK (CNNMoney) -- The Treasury Department announced Friday that it has frozen the pay of top executives at the three firms still on the hook for "exceptional assistance" from TARP.
The firms -- AIG (AIG, Fortune 500), Ally Financial and GM (GM, Fortune 500) -- all received bailout money from the government during the financial crisis, but have yet to fully repay the funds.
It is the second straight year the government's special master for TARP compensation, Patricia Geoghegan, has taken this step.
The special inspector was given oversight of top salaries at bailed-out firms as public outrage grew over how taxpayer dollars were being used during the financial crisis.
For 2012, each CEO's pay will be frozen at last year's levels, and cash compensation is limited. The bulk of CEO earnings will be tied to performance, in the form of stock.
The pay freeze will be particularly hard to take for management at GM, which earlier this year reported very strong profits.
GM reported a record annual profit attributed to common shareholders of $7.6 billion in February. Meanwhile, the company's stock has risen 22% since the start of 2012.
The direct pay of lower-level executives at each firm -- the five senior executives, plus the next 20 highest earners -- will actually be cut 10% on average from 2011 levels.
Still, the executives will earn quite a bit of dough. The top employee at GM -- who is not named, but presumably is CEO Daniel Akerson -- will bring home $9 million.
The lowest paid executive on GM's list will earn $1.3 million.
Treasury says the firms are inching closer to paying off their loans. AIG has reduced its obligations by 75%, while half of the TARP funds given to GM have been repaid. Ally Financial, formerly known as GMAC, has only repaid one-third.