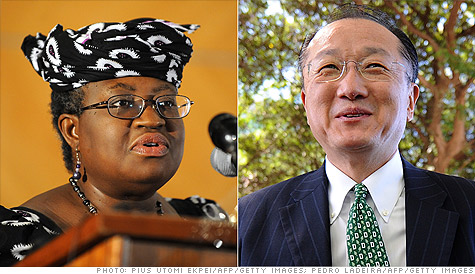 Ngozi Onkonjo-Iweala (left) and Jim Yong Kim.
NEW YORK (CNNMoney) -- The World Bank will choose its next president in one week, and for the first time ever, it's got a competition on its hands.
Throughout its more-than-60-year history, the bank has been led by an American, part of a tacit agreement between the United States and its Western European allies. Europe, in turn, has maintained control of the top spot at the bank's sister organization, the International Monetary Fund.
Now, candidates from the developing world are trying to shake things up. Dartmouth University President Jim Yong Kim, nominated last month by President Obama, is facing off against Nigerian Finance Minister Ngozi Okonjo-Iweala and former Colombian finance head José Antonio Ocampo.
With these challenges has come a renewal of complaints about the U.S. monopoly on the presidency, and calls for the bank's leadership to better reflect the world's evolving economic order.
In 2010, the United States and other World Bank shareholder-countries pledged support for an "open, merit-based and transparent" selection process for the next president, who is expected to be named on April 16. As part of this process, the bank's board will hold interviews with Kim, Ocampo and Okonjo-Iweala this week.
But such declarations notwithstanding, most analysts believe there is little doubt that Kim will secure the presidency. That's because of the bank's voting structure, which has long allowed the U.S. and Europe to impose their will in matters of leadership.
The United States and Europe together have roughly 50% of voting shares, which are based on money paid into the bank; along with Japan, which has already pledged support for Kim, they form an unbeatable voting bloc.
Nevertheless, the emergence of strong candidates from the developing world -- and Okonjo-Iweala in particular -- has left observers questioning whether the current arrangement remains tenable.
Last week, a group of 39 former senior officials at the World Bank issued an open letter endorsing Okonjo-Iweala and calling on the bank's board to make good on its promises of reform.
"All of us agree that the World Bank and all international financial institutions would enjoy considerably greater legitimacy and stronger management if their leadership were selected in an open, transparent, merit-based, and competitive manner rather than simply appointed in line with understandings that no longer reflect the world as it is today," the letter reads.
In addition to her experience in the Nigerian government, where she earned a reputation for battling corruption, Okonjo-Iweala logged more than two decades at the World Bank, eventually rising to the No. 2 spot.
As an economist with degrees from Harvard and MIT, some argue that she's a better fit for the bank than Kim, a doctor who built his reputation developing public health schemes for poor countries.
"Dr. Kim is an impressive guy, but the main concern I have about him is he's a specialist -- he's very narrow," said Uri Dardush, a former World Bank economist who has endorsed Okonjo-Iweala. He said she had "a considerable edge" in qualifications over Ocampo and Kim.
"Health issues are very important, but they're just one of maybe 20 sectors that the bank is engaged in, and the heart of what the bank is engaged in is economic growth," Dardush said.
The World Bank was created along with the IMF in 1944 to help the Allied powers shape the post-World War II economic order. It now includes 187 shareholder states, offering loans and grants as well as technical expertise for projects around the world.
These projects range from health and education to infrastructure and private-sector development. It's a massive organization, comprising more than 9,000 employees around the world and offering nearly $250 billion worth of financial assistance over the past five years.
The presidency became available when Robert Zoellick, a former deputy secretary of state who also served as international vice chairman at Goldman Sachs (GS, Fortune 500), announced that he would depart when his term concludes in June.
Some in Washington have argued that an American World Bank head is important to ensure continued Congressional funding for the institution. Beyond the Beltway, Kim has also garnered support from leaders like Rwandan President Paul Kagame and American development economist Jeffrey Sachs.
Ocampo, meanwhile, has been endorsed by a group of more than 100 academic economists and government officials from around the world.
Going forward, it appears the world's emerging economies intend to make competition for the top jobs at the bank and the IMF a regular occurrence.
Following the resignation of IMF managing director Dominique Strauss-Kahn last year, the so-called BRICS countries -- Brazil, Russia, India, China and South Africa -- issued a joint statement calling Europe's leadership of the institution an "obsolete, unwritten convention." Mexican central bank chief Agustin Carstens challenged for the job, but another French leader, Christine Lagarde, ultimately succeeded Strauss-Kahn.
No matter who is elected at the World Bank this month, the United States and its allies must be prepared to accept a non-American in the top job at some point, said Nancy Birdsall, president of the Center for Global Development in Washington.
"If that sort of thing can't happen, then the World Bank does risk becoming less relevant," she said.