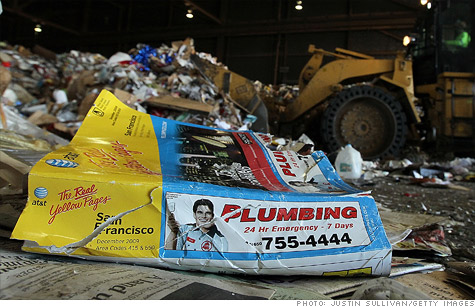 NEW YORK (CNNMoney) -- Here's another casualty of our increasingly digital era: The Yellow Pages.
AT&T on Monday announced plans to sell its Yellow Pages business unit to private equity firm Cerberus Capital Management.
As part of the deal, AT&T will receive $750 million in cash, a $200 million note and a 47% equity interest in the new entity, called YP Holdings LLC.
The arrangement frees AT&T from an albatross it's been struggling with for years. The Yellow Pages are iconic, but in a time when up-to-date listings are just a click away, those massive print directors are more of a nuisance than an aid.
AT&T's Yellow Pages directories go out to about 150 million homes and businesses in 22 states. How many of those recipients actually use them? Here's a sign: San Francisco banned their unsolicited delivery last year.
AT&T (T, Fortune 500) has tried to reposition the Yellow Pages for the digital world, turning YP.com into a city guide and local advertising portal, but with limited success. It took a $2.9 billion write-down on the business in late 2011, reflecting the unit's declining value.
Cerberus will take a fresh run at making the Yellow Pages a modern digital business. If it succeeds, AT&T will share in the upside, thanks to the significant stake it retains in the new venture.
Telecom analyst Frank Louthan, with Raymond James, praised that maneuver.
"The equity stake could give AT&T some option value if the new owners execute on improving the businesses' growth and profitability as a standalone entity," he wrote in a note to clients.
Pending regulatory approvals, the deal is expected to be finalized in mid-2012.