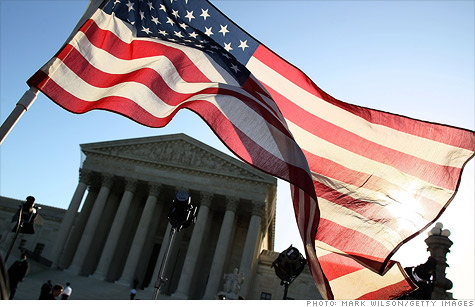 The United States is leading the world in terms of economic growth, according to the Organization of Economic Cooperation and Development.
NEW YORK (CNNMoney) -- The U.S., Japanese and Chinese economies have regained their momentum and are leading the world in growth, according to the latest report Tuesday from a global monitoring group.
Meanwhile, Europe's economy is stagnant, while so-called developing nations show continued signs of growth, the Organization for Economic Cooperation and Development said in its index of leading indicators.
The U.S. economy has grown steadily over the five months ending in February, and Japan's economy has grown for four months, according to the most recent data available for the OECD's index of economic growth.
China's economy expanded for four months straight, according to the OECD, a sign that it has "regained momentum."
Economists have been closely watching China this year to try and gauge whether it will experience a hard landing or a soft landing after coming down from its meteoric growth in manufacturing and spending.
Chinese gross domestic product surged 9.2% last year, But the OECD said its economic index for China declined by one tenth of a percentage point over the last year, through February, 2012.
The index began to show improvement after October, 2011. Then the following four months showed growth, up to February, the most recent month for data.
This is why the OECD uses the term "regained momentum" for China.
But the European economy has been weak, particularly in France, where the OECD is based, and Italy. These countries have experienced ongoing weakness in recent months.
The situation is slightly better for Germany and the United Kingdom. These countries experienced economic declines late last year, but have shown signs of improvement in 2012 and reached a "potential turning point," according to OECD.
Canada's economy has been flat, said the think tank, but Russia, India, and Brazil have all showed signs of growth.