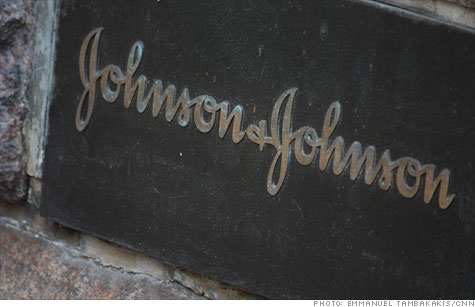 Johnson & Johnson is in talks with federal officials to resolve alleged Risperdal-related misconduct.
NEW YORK (CNNMoney) -- An Arkansas judge slapped Johnson & Johnson and a subsidiary with more than $1.2 billion in penalties on Wednesday for deceptive marketing of the antipsychotic drug Risperdal.
The ruling marks the latest legal headache for J&J over the drug. Johnson & Johnson has faced lawsuits in a total of 11 states in connection with Risperdal.
In a complaint stemming from 2007, the Arkansas attorney general's office accused J&J and a subsidiary, Janssen Pharmaceuticals, of falsely claiming that Risperdal was safer and more effective than similar, cheaper drugs. The companies were also accused of failing to adequately warn about the drug's possible side effects, including diabetes and neurological problems.
As a result, the state said, public funds were improperly used to pay for Risperdal through programs like Medicaid.
"Today's imposition of more than $1.2 billion in penalties sends a clear signal that big drug companies like Johnson & Johnson (JNJ, Fortune 500) and Janssen Pharmaceuticals cannot lie to the FDA, patients and doctors in order to defraud Arkansas taxpayers of our Medicaid dollars," Arkansas attorney general Dustin McDaniel said in a statement.
"These two companies put profits before people, and they are rightfully being held responsible for their actions."
Arkansas judge Tim Fox assessed the penalties for nearly 239,000 violations of the state's False Claims Act, based on the number of Risperdal prescriptions handed out, and nearly 4,600 violations of Arkansas's Deceptive Trade Practices Act, based on mailings of information to doctors and pharmacists.
These acts carry minimum penalties for each violation, which Fox set at $5,000 and $2,500, respectively.
Janssen spokeswoman Teresa Mueller said in an email that the companies had provided "abundant evidence" showing that they had acted lawfully in Risperdal's promotion and distribution. The firms will appeal should their motion for a new trial be denied, she added.
"[T]he state did not show any Arkansas patient was ever harmed by using Risperdal, that any Arkansas physician or Arkansas Medicaid was ever misled by the drug's label or package insert, or that the State ever paid for a Risperdal prescription that was not properly written and eligible for reimbursement," Mueller said.
In January, J&J reached a $158 million settlement over Risperdal with the state of Texas. In June of last year, a South Carolina judge ordered J&J to pay $327 million in Risperdal-related penalties; the company has since appealed the decision.
At the federal level, the company is in talks with the Justice Department in an attempt to settle the matter.