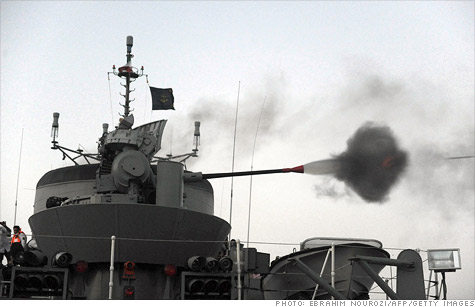 Fear that a confrontation with Iran would push oil prices to $200 a barrel eclipses European debt crisis, China slowdown as biggest threat to the economy.
NEW YORK (CNNMoney) -- An oil price spike caused by a confrontation with Iran is now seen as the biggest threat to the U.S. economy.
That's according to nine out of 18 economists surveyed recently by CNNMoney. They say rising oil prices now outweigh the risks posed by the European debt crisis, ongoing gridlock over the budget in Washington and fears of a slowdown in China.
"An Iranian disruption of oil supplies could send oil prices to $200 a barrel," said Lynn Reaser, chief economist at the Fermanian Business & Economic Institute.
"It's something we're really concerned about," said Chris Lafakis, an economist at Moody's Analytics. "A military confrontation could push prices to $180 a barrel, which would precipitate a recession."
The economy, it appears, can handle oil around $100 a barrel and gas prices near $4 a gallon. While these prices are relatively high, consumer spending continues to rise.
President Obama seems keenly aware of this, and has been working to strike the right balance in sanctioning Iran over its nuclear program.
The sanctions, phased in gradually, are designed to crimp Iran's oil industry just enough to get the country to the negotiating table, but not so much that they cause oil prices to spike or trigger an armed conflict.
So far it appears to be working. Iran recently agreed to new talks, although whether they will be successful in getting the country to curtail its nuclear program is an open question.
Iran says its nuclear ambitions are for peaceful purposes, although many suspect they are intended to produce a bomb.
To be clear, most economists don't think a confrontation with Iran and the resulting oil price spike is likely. They just think it's more likely than the other scenarios.
"Out of all the things that could derail the economy, that has the highest probability of actually occurring," said Lafakis.
By comparison, only five economists in the CNNMoney poll cited the a meltdown in financial markets due to sovereign debt crisis in Europe as the biggest risk to the U.S. economy.
-- CNNMoney's Chris Isidore contributed to this report