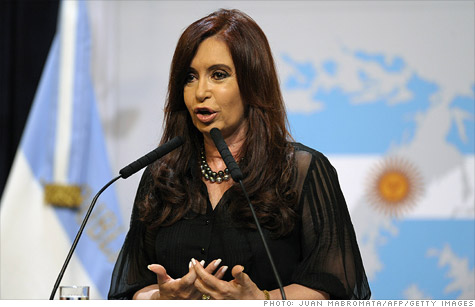 Argentine President Cristina Fernandez de Kirchner delivers a speech in Buenos Aires earlier this year.
(NEW YORK) CNNMoney -- Argentina's government announced a brazen takeover of the country's largest energy company this week, potentially quashing a domestic shale gas boom.
Argentine president Cristina Fernández de Kirchner said Monday that she was sending a bill to the country's legislature authorizing the seizure of a controlling stake in energy firm YPF (YPF), the majority shareholder of which is Spain's Repsol (REPYY).
The move appears driven in part by a belief that the company could be producing more fuel. That would reduce the country's need for energy imports and the costly subsidies that help finance them.
But analysts say the takeover will do little to stimulate Argentina's energy production. Instead, it will deter investments from private companies with the expertise necessary to tap the country's abundant shale gas resources.
"The government ... is putting this potential production boom at risk through its actions, and is naïve if it believes that it can do a better job of reducing the country's fuel import bill than the private sector," analysts from IHS Global Insight said in a research note this week.
Argentina has the third-largest shale gas reserves in the world, behind only China and the United States, according to the U.S. government's Energy Information Administration. Shale production has been expanding rapidly in the U.S., and the development of such resources could be worth billions of dollars to Argentina.
The extraction of shale gas -- done through a technique called hydraulic fracturing, or fracking -- has proven controversial due to worries about its environmental impacts. Argentina, though, is anxious to develop its reserves and break its dependence on imports.
Repsol has reacted furiously to YPF's seizure, which has also drawn criticism from officials in Spain, the U.S. and the European Union. The company has branded Argentina's move "unlawful" and has vowed to take "all legal measures to preserve the value of its assets."
The move is one of the largest nationalizations in the global energy sector in recent years, reminiscent of Russia's break-up of Yukos Oil nearly a decade ago.
Energy firms including Chevron (CVX, Fortune 500), Total (TOT), Apache (APA, Fortune 500) and Exxon Mobil (XOM, Fortune 500) have a presence in Argentina, with most current production focused on conventional oil and gas. Shale exploration efforts are still in their infancy, although shale "is definitely the big attraction" for foreign firms in the country, said Juliette Kerr, a senior research analyst at IHS, but
The government has tried to accelerate shale gas production by allowing companies to sell it domestically above regular set prices. With the seizure of YPF, however, Buenos Aires may have taken a step backwards in this effort.
"This will raise serious doubts about the rule of law and contract sanctity," Eurasia Group Latin America analyst Daniel Kerner said in a research note.
"[T]his will make it hard for Argentina to attract needed investment to develop its promising unconventional resources."
So far, YPF's foreign competitors have offered little public reaction to the takeover.
Apache spokesman Bill Mintz said his company doesn't foresee "a major impact for our operations" as a result of the move. He noted that YPF has a "unique" relationship with the Argentine government, having previously been state-owned before being privatized in 1993.
A Chevron spokesman said the company "continues to work in partnership with the Republic of Argentina to develop the country's resources," declining to comment further.
Exxon declined to comment, while Total did not return requests for comment.
The Argentine government has given no indication that it will move beyond the YPF takeover to a sweeping nationalization of the energy sector, as governments in Bolivia and Venezuela have done. But even so, those in the industry must be wondering whether this is just the beginning of a slippery slope, said Jose Valera, a partner in the energy practice group at Houston law firm Mayer Brown.
"What this tells other companies in the country is that they could be next," Valera said. "This doesn't bode well for the growth of the oil and gas industry in Argentina."
CNN Wire Staff contributed to this report.