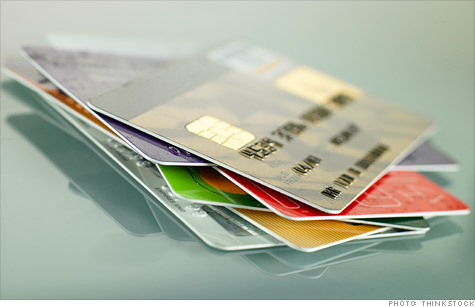 Credit card issuers are ramping up lending to consumers with bad credit. But borrowers beware: The terms aren't always going to be great.
NEW YORK (CNNMoney) -- Credit card issuers are ramping up lending to consumers with poor credit. But borrowers beware: The terms aren't always going to be good.
Lending to subprime consumers -- typically those with a FICO credit score of below 660 -- climbed 41% last year, with banks issuing 1.1 million new credit cards to riskier consumers, a four-year high, according to a recent report from credit reporting agency Equifax.
Credit limits on new subprime credit cards also grew, climbing 55% from 2010 to 2011.
"Just a year ago, it was much more difficult for someone with average or low credit to get credit cards," said Beverly Harzog, a credit card analyst at Credit.com. "But now the economy has been getting a little better, issuers are feeling more comfortable, and in order to increase revenue, banks are realizing they need to expand their customer base."
But just because a bank is willing to extend credit to a subprime borrower, doesn't mean it's going to offer them favorable terms and conditions. It's still going to be tough to find a card with a low interest rate and decent fees, said Harzog.
Consumers with credit scores in the 620 to 659 range are generally considered to have "fair" credit, according to credit card comparison website CardHub.com. And while there are some decent deals out there for these customers, APRs are still going to be high.
The average APR on credit cards for these borrowers is about 20%, according to CardHub.com. That compares to an average APR of 17% for customers with good credit (660-719) and a 13% APR for those with excellent credit (720-850).
If the goal is to rebuild your credit, however, the APR shouldn't be as big of an issue since you should be paying your bill in full each month. In this case, fees can often play a bigger factor than the APR, said CardHub CEO Odysseas Papadimitriou. Cards with fees totaling less than $40 per year are worth considering, he said.
Those with poor credit, who typically have scores below 620, will likely be offered cards with super high interest rates and fees.
Credit card issuer First Premier, for example, has a credit card aimed at customers with poor credit that charges more than $200 in fees per year and comes with a 36% APR.
So it's important to read the fine print on any offers very carefully, Harzog said.
"You have to watch out for predatory subprime lenders who might charge processing fees, fairly high annual fees and interest rates that can exceed 36%," she said.
Steer clear of those sky-high interest rates, she said. If you have an emergency expense that prevents you from paying off the balance right away, "credit card debt can spiral out of control in a flash."
For consumers with bad credit, a secured card is likely a better option, said Harzog. Secured cards require a deposit so the cardholder is, in essence, borrowing against their own money. As a result, these cards provide lower interest rates than unsecured credit cards.
Beyond that, secured cards work much like regular credit cards and report payments to the major credit bureaus to help you build a credit history.
Harzog recommends Orchard Bank's secured card for those looking to build their credit. Orchard Bank, part of HSBC, offers three credit cards, plus a secured card for consumers, and the bank decides which card you qualify for based on your credit worthiness. If you just want to apply for the secured card, there is a separate application you can fill out.
With the secured card, you must make a $200 minimum security deposit. The APR is a low 7.99% and the $35 annual fee is waived the first year. After you have used the secured card responsibly for at least 12 months, the bank will consider graduating you to one of its unsecured cards.
While there are some hopeless credit cases who should probably never own a credit card again, many subprime borrowers who were cut off from credit over the past few years deserve a second chance, said Harzog.
"Many people were thrown into the subprime category because something bad happened to them during the recession -- like they lost a job -- and if that bad thing hadn't happened they would have kept paying their bills on time," said Harzog. "Now these people want a chance to get back on track."