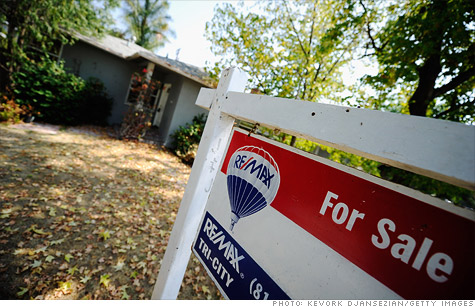 Existing home sales dipped 2.6% on a monthly basis, but rose 5.2% year over year.
NEW YORK (CNNMoney) -- The housing market continued to struggle in March, despite low home prices and record low interest rates, an industry report revealed Thursday.
Sales of existing homes fell 2.6% compared with a month earlier, to an annualized rate of 4.48 million homes, the National Association of Realtors said.
Gus Faucher, a senior economist at PNC Financial, called the report disappointing.
"We were expecting an increase," he said. "We need a turnaround to help the economy recover."
The Realtors' group's chief economist, Lawrence Yun, opted to look on the bright side of the report -- sales were up 5.2% year-over-year.
"We have seen nine consecutive months of year-over-year sales increases," he said. "Existing-home sales are moving up and down in a fairly narrow range that is well above the level of activity during the first half of last year."
The choppy market stands in contrast to the continuing gains made in affordability.
Factoring in price declines that have averaged about 34% nationally, according to the S&P/Case-Shiller home price index, and record low mortgage rates, homebuying is more affordable than ever.
"For buyers who can qualify for a mortgage, now is a very good time to become a homeowner," said Realtors' president Moe Veissi.
According to Yun, better economic conditions will push sales higher as the year goes on.
"With job growth, low interest rates, bargain home prices and an improving economy, the pent-up demand is coming to market and we expect housing to be notably better this year," he said.
As the year goes on, buyers may find fewer properties to choose from.
The number of homes for sale dropped 1.3% in March to 2.37 million existing homes. That's a 6.3-month supply at the current sales pace. Inventory declined 21.8% compared with March 2011 and is well below the record of 4.04 million in July 2007.
Ironically, the tighter supply may have cut into sales, with house hunters in some areas of the nation having trouble finding homes to suit their needs or tastes.
"We're already seeing this in the Western states and in South Florida," said Yun.
If the tightness in inventory spreads, it could signal a rebirth for home builders, who would have to step up development to fill the gap. And putting construction workers back on the job would be a shot in the arm for the overall economy as well as the housing market.
"Conditions are in place for a turnaround," said Faucher. "We're just waiting for more confidence among buyers. We expect that to happen over the next few months."