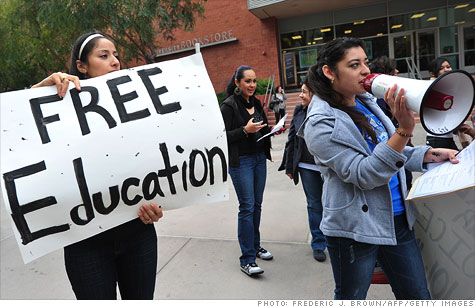 President Obama this weekend will kick off a new push to get Congress to extend current cheap rates on subsidized loans for more than 7 million undergraduates.
WASHINGTON (CNNMoney) -- President Obama will use his bully pulpit to urge lawmakers to prevent a doubling of interest rates on federally subsidized student loans.
On July 1, the interest rate on federal subsidized loans will go from 3.4% to 6.8%. That means students taking out loans for the next school year will have to dig deeper in their pockets to pay them off.
"If we want to keep jobs in our country, we have to have an educated work force," Secretary of Education Arne Duncan said Friday. "We have to educate our way to a better economy."
More than 7 million undergraduates have subsidized student loans, which means the federal government absorbs some of the interest rate for lower- and middle-income families based on financial need.
If Congress does nothing, the cost to students borrowing the maximum $23,000 in subsidized loans is an extra $5,000 over a 10-year repayment period.
The cost to extend the lower interest rates is $5.8 billion, according to an analysis by the nonpartisan Congressional Budget Office. And that's a big reason why House Republicans aren't inclined to go along with extending the rate.
"We must now choose between allowing interest rates to rise or piling billions of dollars on the backs of taxpayers," said Rep. John Kline, a Minnesota Republican who chairs the House panel on education. "I have serious concerns about any proposal that simply kicks the can down the road and creates more uncertainty in the long run."
Subsidized student loan interest rates used to be 6.8%. But when Democrats took over the House in 2007, they passed phased-in cheaper rates for subsidized student loans. The rates fell to a current low of 3.4% for subsidized Stafford loans this past school year. The rates are scheduled to revert back to 6.8% for the 2012-2013 school year.
Student loans are a big deal. The Federal Reserve of New York last month reported that the $870 billion in student loan debt tops $693 billion in credit card debt and $730 billion car loan debt.
And with unemployment just below 24% for teenagers and 14% for those ages 20 to 24, more young people are going back to school or staying in school, according to recent data by Equifax.
Additionally, more students struggle to pay back those loans. Student loan delinquencies involving payments more than three months late rose 14.6% in 2011 from the year before, according to Equifax.
While Obama has pushed to expand access to college for low- and middle-income children, lawmakers have taken several steps to whittle away at student aid.
Congress eliminated subsidized loans for graduate students, as well as most discounts. They also cut $8 billion out of the Pell Grant program for low-income students and reduced the income threshold for eligibility for a full Pell Grant.
President Obama's campaign for continued low rates for students will take him to University of North Carolina at Chapel Hill, the University of Colorado at Boulder, and the University of Iowa at Iowa City next week, according to a White House official. On Tuesday evening, the president will also talk student loans on comedian Jimmy Fallon's late-night show.