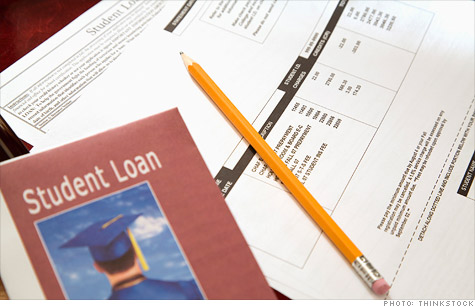 Student loan interest rates are set to double this summer.
NEW YORK (CNNMoney) -- Attention college students: The interest rate on federal student loans is scheduled to double this summer unless Congress acts soon.
Loans taken out for the current school year carried an interest rate of 3.4%, thanks to a 2007 law that phased in rate reductions for subsidized Stafford loans to undergraduate students. But the law did not specify the rate after this year. So unless something is done, rates on new loans will revert back to 6.8% -- where they were in 2007.
President Obama urged lawmakers in his State of the Union address Tuesday to stop this rate hike from going into effect. He also asked Congress to extend the enhanced Hope Scholarship program, which increased the maximum tax credit to $2,500. And he wants to double the number of federal work-study jobs.
But it remains to be seen whether this deficit-conscious Congress will act, especially since extending the 3.4% rate would cost $5.6 billion a year, according to Mark Kantrowitz, publisher of FinAid.org. All told, Obama's proposals would total at least $10 billion a year.
While the president has focused on expanding access to college for low- and middle-income children, lawmakers have taken several steps to whittle away at student aid.
Congress has eliminated subsidized loans for graduate students, as well as most discounts. They also cut $8 billion out of the Pell Grant program for low-income students and reduced the income threshold for eligibility for a full Pell Grant.
"[Since] Congress just passed legislation cutting student financial aid funding, it's unlikely they'll pass legislation increasing student aid funding," Kantrowitz said.
Raising student loan rates will prove costly, said Lauren Asher, president of the Project on Student Debt. Someone who graduates with $23,000 in debt will pay an additional $4,600 in interest over 10 years.
Two-thirds of college seniors graduating in 2010 had student loan debt, and the average balance was more than $25,000, the project found.
"In this tough economy, people are concerned about the cost of college and the burden of debt to follow," Asher said.