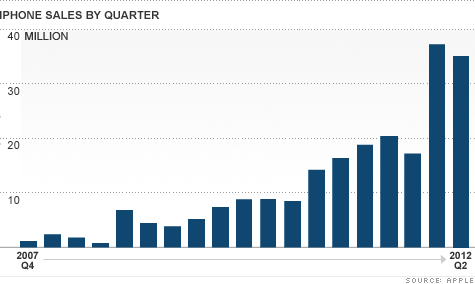 NEW YORK (CNNMoney) -- Much stronger-than-expected iPhone sales helped Apple nearly double its profit last quarter.
The world's most valuable company said Tuesday it sold 35.1 million iPhones during the first three months of 2012, soundly beating analysts' expectations. That was a relief to investors, following weaker-than-expected iPhone activations from Verizon (VZ, Fortune 500) and AT&T (T, Fortune 500) during the quarter.
Shares of Apple rose more than 10% in pre-market trading Wednesday, halting a two-week slump that has dragged the stock down nearly 13% from its all-time peak.
The iPhone 4S got a big boost from overseas sales in the past quarter, particularly after the device launched on China Unicom (CHU) in January and China Telecom (CHA) in March. Apple's Asian revenues grew 32% over the prior quarter.
Apple (AAPL, Fortune 500) also announced that it sold 11.8 million iPads. Boosting sales was the launch of the third generation of the tablet, which went on sale in mid-March, as well as Apple's decision to continue selling the very similar iPad 2 at a $100 discount.
The iPad is now Apple's fastest-selling device, reaching 67 million sold since it launched two years ago. It took Apple three years to sell as many iPhones, five years to sell as many iPods and 24 years to sell that number of Macintosh computers.
Yet analysts were concerned that the introduction of the lower price point would hurt future profit. Average revenue per iPad fell to $558 last quarter from $593 in the previous quarter.
Apple CEO Tim Cook said on a conference call with analysts that the company "feels great" about offering the iPad at a lower entry cost, which has resulted in a "marked change in demand in some countries."
Mac sales grew to 4 million, and iPod sales slipped to 7.7 million.
Overall, sales for the Cupertino, Calif.-based company rose 59% to $39.2 billion, topping the median forecast of $36.8 billion of analysts polled by Thomson Reuters.
Apple's net income rose to $11.6 billion, or $12.30 per share, up 95% from a year earlier. Analysts forecasted earnings of $10.04 per share.
For the current quarter, Apple said it expects earnings of $8.68 per share on sales of $34 billion. That is well below Wall Street's expectations, but investors typically take Apple's historically conservative guidance with a grain of salt.
Yet Apple's Chief Financial Officer Peter Oppenheimer defended the company's outlook, noting that the ability to ramp up manufacturing and meet customers' demand for iPhones exceeded the company's forecasts. As a result, the company expects iPhone sales to fall in the current quarter from the past quarter. Apple expects iPad sales to grow quarter over quarter.
Apple briefly reached a market valuation of $600 billion before the recent slide, becoming just the second company to hit that level. The other, Microsoft (MSFT, Fortune 500), achieved it in late 1999.
At the end of the quarter, Apple's cash hoard grew to an astounding $110.2 billion. The company said it would begin giving shareholders a quarterly dividend of $2.65 per share sometime its fiscal fourth quarter, which begins in July. Apple will also buy back $10 billion of its own shares over three years, beginning in October.
The third national iPhone carrier, Sprint (S, Fortune 500), is set to report its financial results on Wednesday morning. Amazon (AMZN, Fortune 500), Apple's chief tablet competitor, is scheduled to report earnings Thursday evening.