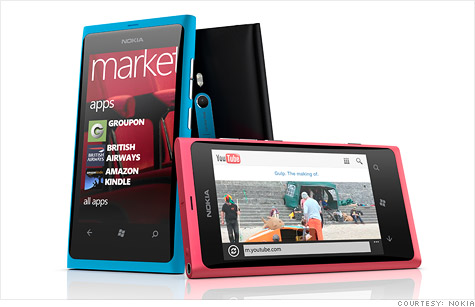 Despite success with the Lumia lineup, Nokia couldn't escape a downgrade to junk status.
NEW YORK (CNNMoney) -- Unimpressed with Nokia's turnaround progress, Fitch Ratings downgraded the Finnish company's debt to junk status on Tuesday.
Nokia's (NOK) debt rating was lowered to BB+ from the lowest "investment grade" rating of BBB-. The credit rating agency also gave Nokia a long-term outlook of "negative," meaning the company is at risk of having its debt downgraded again.
At issue was Nokia's weak first quarter financial performance. Despite selling 2 million of its new Lumia smartphones, Nokia said that it lost money in its devices business over the first quarter due to ramped up competition across the globe. The company is struggling to keep pace with Apple (AAPL, Fortune 500) as well as the army of smartphone companies selling devices that run on Google's (GOOG, Fortune 500) Android.
Fitch cited "the deterioration in the company's core devices and services division" in the first quarter as the primary reason for the downgrade. The credit rater also said it was concerned by Nokia's forecast that it would suffer even bigger operating losses in the current quarter.
Nokia contends that it is a company in transition, and it will take time to turn the ship around.
The primary part of that turnaround began a year ago, when CEO Stephen Elop announced that Nokia would ditch its struggling home-grown operating system and start shipping phones with Microsoft's (MSFT, Fortune 500) Windows Phone OS. The Lumia lineup, released in Europe last fall and in the United States this month, is the first real test of that partnership.
Nokia said the partnership is going well so far -- just not quite as well as it had expected. Sales of Lumia devices have grown in every month since November, and the company's market share has risen as well.
Yet faced with mounting losses, Nokia said it is "quickly taking action." In addition to ramped up Lumia marketing, the company said it plans to make cost cuts, adjust the prices of its phones, and consider restructuring the company "if and when necessary."
To avoid another downgrade, Fitch said Nokia must demonstrate "substantial improvements" in the third and fourth quarters of 2012 and throughout 2013. Fitch added that the company needs to keep sales stable and start making money on those device sales going forward to hang onto its BB+ rating.
That will be tough. Nokia has said that a ramped-up competitive landscape, the difficulty in timing product launches and a tough economy will continue to weigh on the company's financial results through the next few quarters.
Though the Lumia launch with AT&T (T, Fortune 500) could be a positive sign of the beginning of a turnaround, Fitch argued that Nokia's low-end smartphone and feature phone business could outweigh Lumia's gains. And if the Lumia launch doesn't meet expectations, then the company will really be in trouble.
Fitch warned that Nokia's net cash hoard of €4.9 billion ($6.5 billion) is strong, but could be depleted over the next year and a half as losses mount and the company continues to restructure.
Still, investors may be acting as if all this bad news may be priced into Nokia's stock. Shares actually rose a bit Tuesday, coming off a fresh 14-year low.