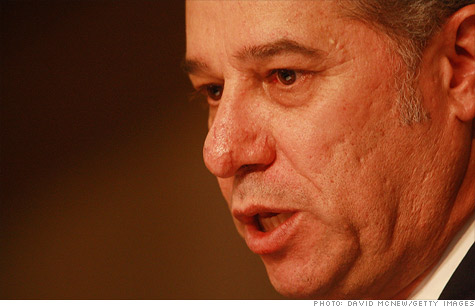 Eduardo Castro-Wright, pictured here in 2008, was the CEO of Wal-Mart de Mexico when the retail division allegedly paid $24 million worth of bribes to streamline construction projects.
NEW YORK (CNNMoney) -- Wal-Mart Stores is continuing the effort to contain the damage from allegations that it bribed its way to dominance of Mexico's retail industry.
Shares of the world's largest retailer seesawed up and down on Wednesday, but only by a fraction of a percent. The shares fell nearly 7% Monday and Tuesday, the first trading days following the New York Times report about the alleged bribery.
On Tuesday, Eduardo Castro-Wright, the former CEO of Wal-Mart de Mexico and currently vice chairman of Wal-Mart (WMT, Fortune 500), resigned from MetLife (MET, Fortune 500)'s board of directors. Castro-Wright was implicated in the Times story as a proponent of $24 million worth of alleged bribes in Mexico to streamline construction projects, dating from 2005.
The former board member said in a letter to MetLife Chief Executive Steven Kandarian that he "must focus my energy in spending personal time with my family and in protecting my good name and business reputation."
Wal-Mart spokesman David Tovar told CNNMoney that Castro-Wright is still employed as vice chairman, but "he doesn't have any day-to-day functional responsibilities." Tovar also said that Castro-Wright still plans to retire from Wal-Mart on July 1.
Meanwhile, Mexican authorities said Wednesday that they have opened an investigation into permits issued to Wal-Mart in light of allegations.
"If any irregular activities attributable to federal public servants are detected, the federal government will take appropriate action," Mexico's Ministry of Public Administration said in a statement.
Tovar said Wal-Mart has enlisted outside law firm Jones Day to assist in its internal investigation of the activities alleged in the Times story. He outlined the retailer's recent measures in Mexico to ensure compliance with the Foreign Corrupt Practices Act (FCPA), as part of an internal investigation that the retailer has been conducting for more than a year.
"We established a dedicated FCPA compliance director in Mexico who reports directly to our new global FCPA compliance officer in Bentonville," said Tovar in an online video, in reference to the company's Arkansas headquarters. "All of this is in addition to the worldwide review of our anti-corruption program that we launched in March of 2011."
"We are taking a deep look at our policies and procedures in every country that we operate," he said.
Back in January, CNN's Poppy Harlow asked Doug McMillon, chief executive of Wal-Mart International, whether the company was conducting anti-corruption investigations across its international operations.
McMillon said, "What we are trying to do is strengthen our compliance programs and when we find issues that we are dealing with, we disclose them appropriately. And over time, we will probably shed more light on that, but right now we have got work to do to make sure that in every instance we are fully compliant with all the local laws."
"And with as many markets as we operate in, and as many things that we sell, we have to stay on top of that and be very vigilant," Mc Millon added.
-- CNNMoney's Parija Kavilanz and CNN Wire staff contributed to this story