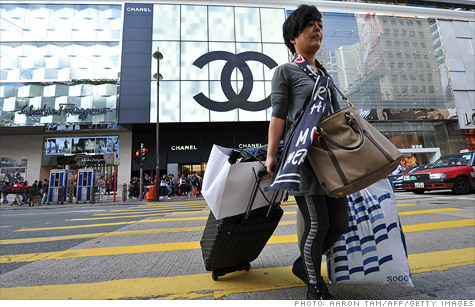 The middle class in China has topped more than 300 million people. And they are a growing factor in the world's economy.
NEW YORK (CNNMoney) -- CNNMoney interviewed Helen Wang, author of The Chinese Dream: The Rise of the World's Largest Middle Class and What It Means to You. A consultant, Wang was raised in China and has lived in the United States for more than 20 years.
Q. Who are the middle class in China?
A. I define middle class as households with an annual income of between $10,000 and $60,000 U.S. dollars. But income is a little misleading because the cost of living in China is very different. A rule of thumb is a household with a third of its income for discretionary spending is considered middle class.
In China, the middle class is all concentrated in big cities, not like in this country, where a lot of the middle class are in the suburbs. Most people have a college education and relatively stable jobs. There are a lot of entrepreneurs and a lot of white collar workers, working for multinationals or state-owned companies.
They are a lot younger ... 20 to 50. A lot of them own homes. Like Westerners, they want everything Americans have.
This new middle class just emerged in the last 15 to 20 years. Fifteen years ago, people didn't have cars yet. But in the last seven, eight, or nine years ... everyone has a car. Some people have more than one car.
Q. How big is the Chinese middle class?
A. It is estimated that it's more than 300 million -- already larger than the entire population of the United States.
About 25% of the population is middle class. It's about 50% of the urban population.
Q. How did the middle class climb the economic ladder?
A. A lot of it is entrepreneurship. With China's economy growing over the last 20 to 30 years, there have been a lot of business opportunities.
Some people still go to college and then get good jobs. A lot of multinationals employ these young college graduates. They pay relatively better than Chinese companies. Many foreign companies are contributing to creating the white-collar middle class.
Chinese state companies also employ a lot of people. Their income has more than tripled over the last 10 or 15 years.
Q. How are they changing China?
A. The Chinese are shopping a lot more. Retail is booming like a wildfire in China. There are a lot more consumers and they are demanding a lot more services.
A lot of Chinese, especially younger consumers, are really into the luxury brands. They associate Western luxury brands with quality of life and sophistication. They want gyms, health care clubs and definitely travel. They want to see the world. The restaurant business is doing very well.
The younger generation -- people under 30 -- they are consuming like crazy. They save zero. They spend all of their salary on a Louis Vuitton purse. A lot of them stay with their parents so they don't have housing expenses. But once they get married, then they start to save.
Q. Are they concerned about the economy and their financial positions?
A. They know China is growing wildly, and they're very busy trying to catch this opportunity. They know China won't grow at this high speed forever and they know the window of opportunity will close. They know government won't take care of them anymore. They have to take care of themselves.
Q. What is the future of the Chinese middle class?
A. The Chinese middle class may grow to 700 to 800 million, which is 50% to 60% of China's entire population. In the past, all the predictions have proven to be too conservative.
But on the other hand, a lot of Chinese will be in the lower middle class because education will prevent them from moving up. If young people start going into vocational schools, that's for lower skilled jobs.
Q. What does that mean for the U.S. and the rest of the world?
A. It means a lot of opportunities for American companies selling in China.
A lot of U.S. companies are doing extremely well in China. While GM filed for bankruptcy a few years ago, their sales in China soared. Chinese consumers helped GM to turn around.
Nike is doing so well, Pizza Hut, Kentucky Fried Chicken. A lot of smaller companies are looking to sell into China. That will help the American economy.
Because of rising wages in China, we are already seeing some manufacturing jobs come back to this country. Those jobs will continue coming back and that will create jobs in the U.S. as well.
The same thing goes for the Western economy in general. Chinese consumers love Italian products. They want Italian products made in Italy.
Q. What are the barriers to entry for those still in poverty?
A. If you are born in urban China, you can go to public school and you enjoy a lot of government benefits. For rural Chinese, they have none of these. If you're born in the rural area, you can't even live in the cities. That's gradually changing. They let the rural people come into the cities to do the work. But there are still restrictions.
There is no future for people who live in the villages. There are still a lot of barriers for those people to move up the economic ladder.