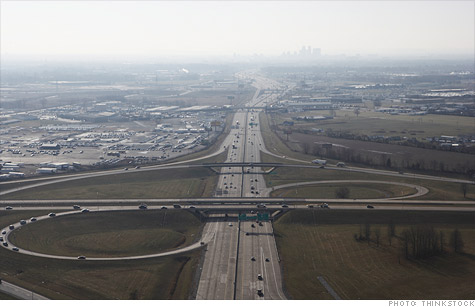 Louisville is one of the nation's most polluted cities. Click the picture to see the rest.
NEW YORK (CNNMoney) -- While dangerous pollutants still threaten the health of millions of Americans, the United States has made great strides in clearing the air, according to the American Lung Association.
In its annual State of the Air 2012 report, the organization said that between 2001 and 2010, ozone levels dropped 13%, year-round particle pollution declined 24% and short-term particle pollution 28% thanks to the Clean Air Act.
Particle pollution includes things like dust, metals, smoke, exhaust and acids, like nitrates and sulfates. Ozone, meanwhile, is created when a chemical or fossil fuel, like coal or gasoline, is partially burned and the unburned hydrocarbons, when combined with ultraviolet light, form a gas.
Amendments to the Clean Air Act in 1990, which included the promotion of the use of natural gas and low sulfur fuel, have resulted in 23,000 fewer premature deaths in 2010, averted 1.7 million asthma attacks and prevented 4.1 million lost work days, according to The Environmental Protection Agency.
But pollution still takes a great toll on public health. More than 4 out of 10 Americans, 127 million people, live in counties with dangerous levels of either ozone or particle pollution, the American Lung Association said. The result: increased incidents of all sorts of health problems, especially asthma, bronchitis and cardiovascular disease.
"We've been paying for this pollution for a long time," said Janice Nolen, the national policy advocate for the ALA.
The ALA report ranked cities by particle pollution, both short-term and year-round, as well as by ozone levels.
Many of the cities with the dirtiest air are located in the sunny valleys and basins of the West, where pollutants can stagnate and cook into photochemical smogs.
As a result, California lays claim to many of the most polluted cities. Bakersfield, in California's San Joaquin Valley, claimed the top spot as the most polluted city in the United States for 2012 for both types of particle pollution and was third in ozone levels. Los Angeles continues to be the worst city for ozone pollution, thanks to its heavy traffic and trade ports.
Outside the Golden State, the city with the highest ranking in any category was Pittsburgh, which came in sixth in both particle pollution categories and 20th in ozone levels. Philadelphia also ranked in the top 25 for all three pollutants.
One surprise was Fairbanks, Alaska. The city near the center of Alaska's vast and mostly empty territory recorded high scores in both types of particle pollution. Tailpipe emissions and wood smoke from the numerous stoves used for heating freeze in the sub-zero temperatures and hang around for weeks at a time. It's called ice smog.
Meanwhile, six cities managed to improve their year-round particle pollution by so much that they managed to fall off the list of the top 25 most polluted cities.
One-time major contributors to dirt air, like Detroit and New York, now rely on far less industry and are no longer among the worst offenders. Lancaster, Pa., York, Pa., Modesto, Calif. and Knoxville, Tenn., also improved enough to fall off the list.
Helping to clean up the air are stricter power plant controls, which force energy companies to use cleaner fuels and better exhaust scrubbers, said Nolen. Cleaner diesel engines have also helped a lot.
"The progress has been absolutely great," she said.
Those looking for the cleanest air can look no further than Santa Fe-Espanola, New Mexico, which took the top spot for air purity in all three categories, according to ALA's report.
Rounding out the top five for both ozone and year-round particle pollution are Bismark, N.D., Duluth, Minn., Honolulu, Port St. Lucie, Fla., Rapid City, S.D.