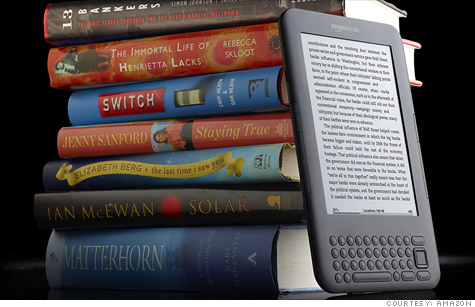 NEW YORK (CNNMoney) -- When the Justice Department filed suit against Apple and five major book publishers alleging e-book price fixing, the government hawked it as a triumph for consumers.
The other champ, of course, was Amazon -- which called the legal action "a big win for Kindle owners." The book giant also said it looked forward to lowering prices on more Kindle titles, as a result of settlement deals that two book publishers cut with the DOJ.
If Amazon (AMZN, Fortune 500) is able to dial back its e-book pricing to $9.99 across the board, rivals who can't afford to forgo profit will have a tough time competing.
And while that may sound like great news for Kindle readers, some worry that Amazon will become a de facto monopoly that could eventually have enough power to raise prices as it sees fit -- or play hardball with publishers who are left with no other options.
Slashing e-book prices would make sense for Amazon. Its long-term business model depends on essentially buying market share -- the company often sells key products for less than they're worth at first, and worries about making money later.
"Cutting book prices has been their strategy all along," says Colin Gillis, a senior tech analyst at BGC Financial. "Everyone's hyping this [suit] up as some good move for Amazon. All this means is that they can sell e-books at a loss. And they'll do it."
That makes the DOJ's suit bad for Amazon's e-book competitors.
"The competitors aren't able to subsidize sales -- they need to make a profit," said Rob Sullivan, a founder of consulting firm Navint Partners. "How can they compete with Amazon taking a loss? If this were steel from a foreign country being sold for less than it's worth, we'd call it predatory pricing and slap a tariff on it."
Amazon is already making life miserable for its rivals. Borders went under in 2011. Barnes & Noble (BKS, Fortune 500) is struggling mightily. The company slashed its fiscal 2012 guidance earlier this year, and is considering spinning off the Nook e-reader business.
Meanwhile Amazon, which reports earnings late Thursday, is expected to post sales of nearly $13 billion for the first quarter of the year. But profits are expected to decline as Amazon expands its operations.
As the competition struggles to survive, the DOJ's crackdown on Apple and book publishers may also give Amazon even more clout in the industry. It's something that terrifies publishers, as Amazon already has a tight grip on the book-publishing supply chain.
If Amazon's rivals disappear, the company could theoretically hike prices. But Amazon has already proved it's willing to play a long game on lowball pricing, with everything from tablets to its Amazon Prime shipping service.
So even if Amazon doesn't hike e-book prices, it could limit choices for authors, publishers and others in the book business. Don't like Amazon's contract terms? Then you may not appear on Amazon -- and good luck selling anyplace else.
"The DOJ's suit focuses entirely on helping the consumer in the short-term, but we need to look at authors and retailers," Sullivan says. "If you fundamentally limit their choices, they may not ever get books published. And that translates to a losing situation for consumers, too."
Amazon declined to comment on the situation beyond its "big win for Kindle owners" statement. But for now, Amazon shows no signs of changing its low-price strategy. After all, it's paid off.
Will e-book market follow e-reader market? No rival was able to grab any significant market share away from Apple's (AAPL, Fortune 500) iPad, which starts at $499, until Amazon launched its Kindle Fire at a jaw-dropping price: $199.
Amazon is willing to get tablets into customers' hands for cheap. The goal is to make money off of content like apps, videos, digital music and e-books themselves.
In a widely read The New York Times article last week, David Carr likened Amazon's e-reader business model to that of Apple -- "which shrank music to a 99-cent single business to propel the sale of iPods."
But the difference is: Apple at least made money on its iPods while also selling songs in the iTunes store.
Amazon loses money on each Kindle Fire. Teardown estimates vary slightly, but research firm IHS iSuppli says the cost of producing each Kindle Fire is at least a few dollars more than its $199 price point.
"Amazon's [overall] profit margins are razor-thin -- about 80% lower than its peer group," Sullivan says. "That just can't last into infinity."
But Amazon can afford it for now, and that's left every tablet maker besides it and Apple in the dust. If the e-book market follows the same pattern, it definitely doesn't bode well for competitors. And it ultimately may not for consumers either.