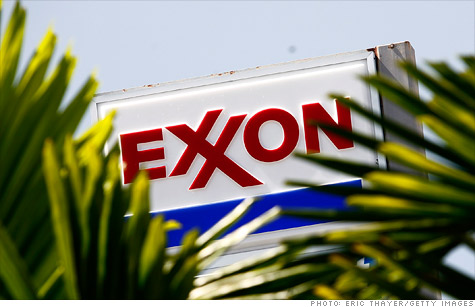 High gas prices weren't enough to lift earnings at Exxon Mobil.
NEW YORK (CNNMoney) -- High gas prices the first three months of the year allowed Exxon Mobil to post huge earnings, but they were short of both year-earlier results and forecasts.
Exxon Mobil (XOM, Fortune 500), the nation's largest oil company, said it earned $9.45 billion in the quarter, down 11.3% from the $10.65 billion it earned a year earlier.
Earnings per share fell to $2 from $2.14 a year earlier. Analysts surveyed by Thomson Reuters had forecast earnings of $2.09 a share.
Shares lost 1.8% in early trading.
Oil and gas prices rose to the highest levels ever recorded during a first quarter, although they were below the record levels hit in the summer of 2008. But pump prices turned lower earlier this month, suggesting that they may have already peaked for the year.
Exxon Mobil is not the only big U.S. oil company to take an earnings hit despite high gas prices. No. 3 ConocoPhillips (COP, Fortune 500) also fell short of forecasts when it reported first-quarter results Monday, although its earnings rose. No. 2 Chevron (CVX, Fortune 500) is due to report results Friday.
Exxon Mobil said it spent $8.8 billion on capital and exploration expenditures during the quarter, up 13% from a year earlier. Production decreased by more than 5%, as it was crimped by OPEC quota effects and divestments.
The company returned more money to its shareholders in the quarter, paying $2.2 billion in dividends, as it raised its dividend payment to 47 cents from 44 cents a year earlier.
It also spent $5.7 billion on share repurchases, reducing the number of shares outstanding by 5%. Without that reduction, earnings per share would have fallen to $1.90 a share.
Exxon Mobil intends to spend an additional $5 billion on share repurchases in the current quarter, and it just raised its second-quarter dividend to 57 cents a share.
The company also said taxes paid rose 4.4% to $27.4 billion, despite the lower earnings in the period.
President Obama has argued that the oil industry no longer needs some of the tax breaks, given current prices and profit levels. But the industry argues it already pays more taxes than many other industries and that higher taxes would crimp its ability to hire more U.S. workers.