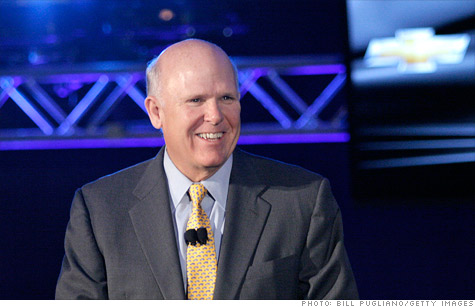 GM CEO Dan Akerson's pay trails that of Ford CEO Alan Mulally.
NEW YORK (CNNMoney) -- General Motors CEO Dan Akerson led the company to record profits in 2011, but he took home a significantly smaller paycheck than Alan Mulally, CEO of rival Ford Motor.
Akerson earned $7.7 million in 2011, GM (GM, Fortune 500) announced in a filing Thursday. Mulally received a pay package worth $29.5 million, according to an earlier filing from Ford (F, Fortune 500), up from $26.5 million in 2010.
GM had a very strong 2011. Besides the record profits, it recaptured its title of global sales leader, finishing with the greatest share in the world's two largest markets, China and the United States.
Its credit rating was upgraded as well, and it's on the verge of shedding the junk bond rating it has operated under since May 2005. It also reached a new labor deal with the United Auto Workers union that didn't increase workers' base pay despite the improving profit outlook and concessions in previous labor deals.
A major factor limiting Akerson's pay package is the fact that the Treasury Department still holds one-third of GM stock as a result of the 2009 federal bailout that kept the company alive during its bankruptcy reorganization.
Because of that, executive pay packages at GM need the approval of Treasury's special master for compensation. And she has essentially frozen the pay of top executives at GM as well as two financial firms still owned by Treasury, lender Ally Financial and insurer AIG.
Akerson became CEO of GM in September of 2010, as the company was just becoming profitable again and preparing for its initial public offering that fall. His prorated compensation for that year came to $2.53 million. His pay for 2012, though not reported in Thursday's filing, will remain the same as that of 2011.
Mulally is widely credited with helping to turn around Ford. Ford was the only major U.S. automaker that didn't receive a federal bailout, and Mulally has benefited from strong performance of its stock since the troubled days of 2009. Earlier this year, he received stock worth $36.3 million after taxes, as part of his pay packages from earlier years. That stock was not included in his reported compensation for 2011.
Akerson has also gotten GM stock as part of his pay package, but the GM shares are trading at a price below its November 2010 IPO price, so his stock compensation is well below Mulally.
The base pay of the two executives is actually relatively close: $2 million for Mulally, $1.7 million for Akerson.
Sergio Marchionne, the CEO of Chrysler Group, the third major U.S. automaker, received no pay from Chrysler in 2011, but that was partly because he is also CEO of Italian automaker Fiat Group, the majority owner of Chrysler, and he receives his compensation from Fiat. Fiat has yet to disclose his 2011 pay.