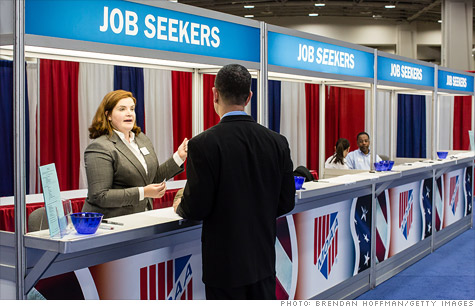 Jobless claims soared to 388,000 last week, which was much higher than expected.
NEW YORK (CNNMoney) -- First-time claims for unemployment benefits remained elevated for the third straight week, the government said Thursday, a sign that a job recovery might be stalling.
The Labor Department said the number of people filing for first-time unemployment benefits totaled 388,000 in the week ended April 21. While that was down 1,000 from the revised total of the prior week, it was the third week in a row that claims were relatively high.
"It seems as though the improvement of the labor market that we had over the first couple of months of this year may have expired," said John Lonski, chief economist for Moody's Capital Markets Group. "The fact that jobless claims have continued to exceed expectations suggests that the U.S. economy has lost momentum."
The number had fallen to four-year lows in recent months, but has been climbing recently.
Economists surveyed by Briefing.com had expected the report to show that 365,000 people filed for their first week of jobless claims last week.
Lonski said that the 6.3% week-to-week jump is the largest weekly percentage increase weekly since April of 2011.
"Jobless claims suggest that 2012 is doing to be deja vu all over again," he added. "That means that the economy's strong start will give way to a milder rate of growth."
Heidi Shierholz, labor market expert with the Economic Policy Institute, said the increase might also be influenced by "artificially low" jobless claims in January and February, as the unseasonably warm weather gave the job market a temporary boost.
As a result, Shierholz said it would be most accurate to characterize the job market as being in a "rocky recovery."
"This sheds even more doubt on whether we've entered a robust, self-sustaining job recovery," she said.
The U.S. unemployment rate currently stands at 8.2%, based on the March jobs report that was released earlier this month.
The job market is one of the most important and closely-watched aspects of the economy. The next big report is on May 4, when the U.S. government will release data for April. The report is expected to show a gain of 120,000 jobs, according to analyst estimates from Briefing.com.